Why are Pakistani artists worried about success of Turkish dramas?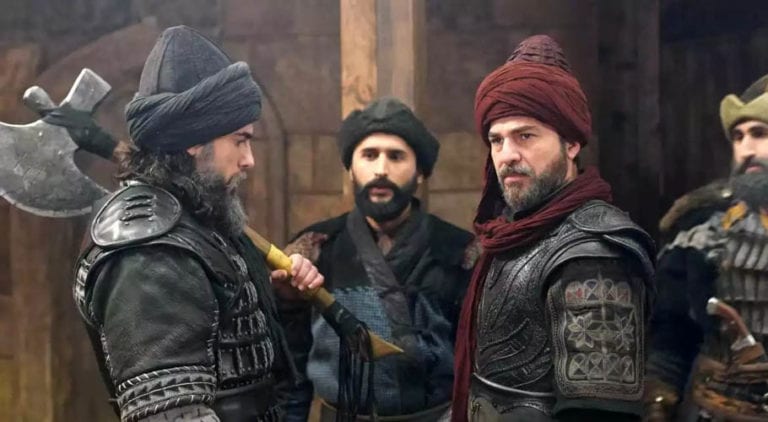 The Pakistani drama industry is perturbed by the rising popularity of Turkish drama serials in the country. The entire nation is nowadays mesmerized by the popularity of Turkish drama 'Dirilis: Ertugrul' (English: 'Resurrection: Ertuğrul') which has been dubbed in Urdu as 'Ertugrul: Ghazi' and is being played on state-owned PTV.
This is not the first time a Turkish drama has been broadcast in Pakistan. Aşk-ı Memnu (Forbidden Love), Mera Sultan (English: Magnificent Century) and Fatma Gul were some of the most popular dramas that we have seen on TV. These did not receive the kind of fame as Ertugrul and local artists are worried. Why makes this drama different from others.
Turkish drama industry
Ertugurul is gaining popularity in Pakistan as it supposedly highlights Islamic history and culture which has been neglected by the local media and vehemently shunned in the West. Turkish dramas reflect its culture and are the country's most well known cultural exports.
Turkey has emerged as the world's fastest-growing television series exporter and has currently overtaken both Mexico and Brazil as the world's second-highest television series exporter after the United States.
Turkish television dramas are among the world's lengthiest ranging between 120 and 150 minutes per episode. The television industry has played a pivotal role in increasing Turkey's popularity in Asia, Europe, Latin America, Middle East and North Africa.
Turkish television shows are available in multiple languages, dubbed or subtitled to accommodate the target country's language. The success of Turkish television series has boosted tourism as well, as visitors are keen to see the locations used for their favorite shows.
The sudden and immense international popularity of Turkish TV dramas has been widely analyzed as a social phenomenon. In 2017, Turkish TV earned $350 million is slated to cross $1 billion by 2023.
Pakistan drama industry
Pakistani's dramas reflect the country's culture but successive governments paid no effort to support them and hence they are not popular outside the country.
The 1970s and 1980s are considered to be golden old days of Pakistani serials which attracted viewers nationwide to television. This eventually faded away due to the proliferation of private TV channels and PTV gradually began to lose its charm.
The serials were watched in India and are popular in other South Asian countries. Dramas such as 'Deewarein', 'Waris', and 'Jungle' were popular in India during the 1980s but the Indian government imposed a ban on Pakistani television channels.
Pakistani dramas have also found recent popularity in India and have been well-received. 'Humsafar' starring Fawad Khan and Mahira Khan was aired in India. The Indian audience admires Pakistan dramas as and gets a sense of cultural familiarity. The content of Pakistani dramas is appreciated for its realism, faster pace with shorter duration, and a limited number of episodes than Indian soap serials.
Melodrama
While some Pakistan dramas have seen rave reviews and have been appreciated by the audience, the drama industry has been underwhelming. The main reason is that the dramas just rely on melodrama genre, and are rather dramatic work wherein the plot is typically sensational and designed to appeal strongly to the emotions.
Melodramas are typically set in the private sphere of the home, and focus on morality and family issues, love, and marriage, often with challenges from an outside source. The Pakistani drama industry relies on producing melodrama and the public started to lose interest.
There are concerns about the depiction of women in dramas. This is been looked with skepticism and reservations and there are complaints that TV dramas are misogynist, patriarchal and depict an archaic image and treatment of women issues. The portrayal of women and the showing of conservative values is on the exports that drama underwhelm and are not considered for export.
What is Etrugrul Ghazi?
'Dirilis: Ertugrul' is a Turkish story that centers on the life of Ertugrul, the father of Osman I, who was the founder of the Ottoman Empire. It has been well received, particularly in the Muslim world although it has been banned in Saudia, UAE and Egypt.
Ertrugrul is an adventure television series created by Mehmet Bozdag, starring Engin Altan Düzyatan in the namesake leading role of Ertugrul. It was filmed in Riva, a village in the Beykoz district of Istanbul, Turkey.
It was premiered on TRT 1 in Turkey on December 10, 2014. The show is based on the history of the Muslim Oghuz Turks and takes place in the 13th century.  The show caught the eye of Prime Minister Imran Khan who directed the show being aired on PTV.
What are Pakistani artists worried?
The Pakistani drama industry does not have the capability to produce a drama like Ertugrual. Even the dialogues have been carefully researched and are the wordings of Ibn Arabi, an Islamic scholar 12th Century.
Pakistan drama actors and celebrities have never able to create a drama of stature. It is a pity that even local heroes are not being considered, while Turkey has brought its historical figures and heroes to the limelight and the big screen so that the world may learn about them and their glorious past.
Pakistan artists are still acting insecure. Actor Shaan, who is acted in numerous low-grade films, which do not even warrant being mentioned, opposed the decision. He later said his objection wais airing it on state TV and he would not be concerned if a private channel aired it.
Actor Yasir Hussain stooped to a new low when he said that Turkish dramas will destroy the local industry. His comments were not taken seriously and social media clapped back at it. The people want high-quality entertainment and will watch foreign content as well. The local drama industry should raise its standards at par with the rest of the world rather than complaining that it is not being given level playing field.