Two killed, 10 injured as building collapses in Lyari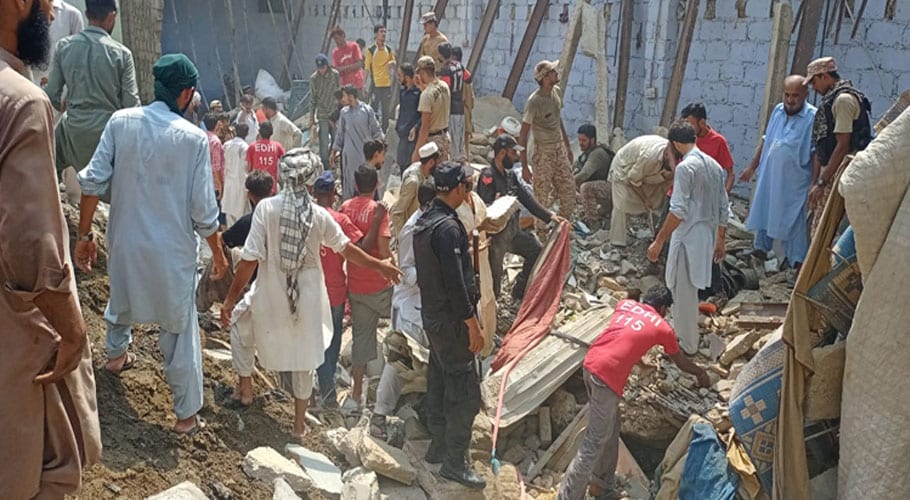 KARACHI: At least two people died and 10 others sustained severe injuries when a two-story residential building collapsed in Lyari area of the metropolis on Sunday.
According to sources, the building collapsed in Lyari's Koyla Godam at 10:35 am. Soon after the incident, rescue teams, police and Rangers reached the scene and shifted the bodies and injured people to Civil Hospital Karachi.
Rangers and police teams have cordoned off the area. While there are fears that more people are stuck under the debris for which heavy machinery has been called.
The Deputy Commission South, Irshad Sodhar said the residential building was under construction. He told media that seven wounded persons were taken out of debris, however, a rescue operation is underway for recovering more persons.
The owner of the building told media that construction work was underway near the building. He added that the building has go-downs on its ground floor.
One among the deceased persons identified as Jan Muhammad, whereas, the injured persons include 30-year-old Abdul Rehman, 25-year-old Daud, 45-year-old Habib, 30-year-old Umair Khan, 40-year-old Sher Khan, 25-year-old Samiullah, 18-year-old Riyaz, 25-year-old Habib Saeed and 20-year-old Umar Khan.
Meanwhile, Sindh Governor Imran Ismail has taken notice of the incident and sought a detailed inquiry report from the provincial chief secretary.
President of PTI Karachi and member Sindh Assembly Khurram Sher Zaman termed the incident "saddening" and asked to accelerate the rescue operation.
He said officers of the SBCA who have shown carelessness should be arrested, adding that the department had become an ATM for the provincial government.
"The provincial government should be ashamed of the frequent incidents resulting in the loss of lives," the PTI leader added.
Zaman also directed volunteers of the Tiger Force to help with rescue work.
This is the second incident that occurred days after a building caved in Korangi's Allah Wala Town.
On September 10, a child was killed when a four-story building collapsed in Karachi's Korangi Town. Eight people, including women and children, were recovered from the rubble.
The incident occurred in Allah Wala Town where the building came crumbling down. The buildings situated near the site of the incident also incurred damage.