Twitter review: 'Shazam! Fury of the Gods' is 'better' and 'bolder'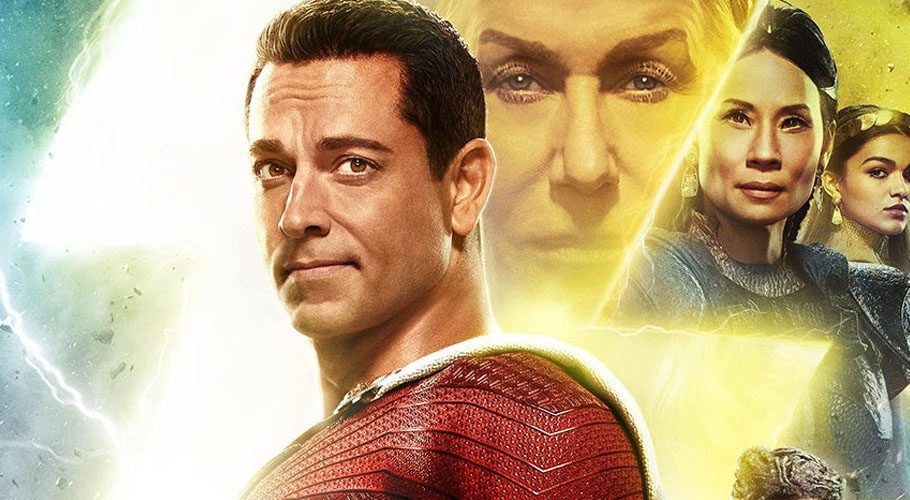 2019's super hero movie Shazam!'s sequel 'Shazam! Fury of the Gods' has just hit the theatre.
The 2019 "Shazam!" introduces a foster youth named Billy Batson, played by Asher Angel, as he's assigned to a new foster family and suddenly granted superpowers from a wizard making him, and eventually his foster siblings, adult superheroes.
This time around, Billy and his foster siblings must battle the Daughters of Atlas, who are based on mythological Greek goddesses and are on a quest for the magic powers stolen from them.
Read more: Here's what actually Aima Baig said in an old interview
As per many social media tweets, the movie was loved by everyone; despite a lot of  search, no major hate reviews were found.
Shazam! Fury Of The Gods is a super fun and worthy sequel. Not a game changing comic book movie, but it wins you over with its characters and energy. Has some real surprises and a knowing sensibility that suit it well – plus some creative and exciting monster action. #ShazamMovie pic.twitter.com/J5gXH3lzzx

— Eric Eisenberg (@eeisenberg) March 7, 2023
#ShazamFurryOfTheGods may not be perfect but it's pretty damn great!

Kinda has everything I love in a good superhero film

~Good fights

Great effects

A emotional arc for our hero

Great villains

Expansions on the superhero world~

If like comic book shit go see this film! pic.twitter.com/syuFJs6lFc

— Daren 🏳️‍🌈⚡️🎉 (@Daren_Mcclimans) March 17, 2023
@ShazamMovie in theaters IN A FEW DAYS! I can't say enough how amazing each and everyone in this movie is and behind the scenes. No matter what !! we all created an amazing super hero movie that I am proud to be apart of. 💜⚡️ #ShazamFurryOfTheGods pic.twitter.com/GvKYPffgOx

— Faithe C. Herman (@FaitheHerman) March 12, 2023
Shazam : Fury of the Gods was a spectacular movie, super funny af and a great road to start for DC Comics/movies

10/10 !!!! #ShazamFurryOfTheGods pic.twitter.com/tbCth5YdZC

— Akumi 🇨🇩 (@Tchumbe96) March 17, 2023
I just finished watching #ShazamFuryOfTheGods I have to be completely honest with you guys I love the first one but I really really enjoyed and loved #ShazamFurryOfTheGods it's super fantastic love the sense of humor and the action and of course Zachary Levi is incredible😍😍🙏🙏 pic.twitter.com/Y8CIhd9sgo

— Mariam Skywalker (@MariamSkywalker) March 16, 2023
Just saw #ShazamMovie & I freakin LOVED it. The action & pacing were perfect. I never felt like the movie dulled. The cast, of course, was as good as they were in the 1st one. The emphasis on family & what Billy was going through this time hit me hard.
8.3/10! GO SEE IT 😃🙌 pic.twitter.com/UbRYti7ky2

— ⌁ || THE FLASH SEASON 9 || ⌁ (@superflashwest) March 17, 2023
#ShazamFuryOfTheGods is BIGGER, BETTER & BOLDER than its predecessor ⚡️

A great mix of heart, action, mythology & horror. It truly has something for everyone.

Be sure to stick around for the TWO post credit scenes! They are very telling for the future of Shazam!#ShazamMovie pic.twitter.com/6mFspJYgi2

— Tasmin ✨ (@aspiringkrypto) March 7, 2023
#ShazamFurryOfTheGods was a fun film, the villains were great and the CGI was a visual feast. I enjoyed every moment of it but kinda strayed away from the vibe on what the first film portrayed .

(and there's a big cameo 👀)
I'll give it a 8.5/ 10 pic.twitter.com/JCfqNZbrwO

— drex (@drreexxx) March 17, 2023
#ShazamFurryOfTheGods >> #Shazam
Good one , didn't expect this, Good start for the New DCU
The way they used Greek mythology was very nice 🫡, Billy Batson should have had more screen time, obviously some good comedy scenes and some cringy comedy scenes pic.twitter.com/to3v0dFfth

— John Koteshwar (@john_koteshwar) March 16, 2023
Just finished #ShazamFurryOfTheGods and man its funny and a great sequel!@ZacharyLevi you were awesome as usual! Loved you from the days of CHUCK! @LucyLiu #helenmirren and @rachelzegler you guys were real goddesses, @ponysmasher you rock! @JamesGunn please make more Shazams pic.twitter.com/eTOyeW5CVF

— Nithin (@N__Nithin) March 16, 2023