Aima Baig addresses controversy of having a crush on her own brother
Aima Baig's old interview put her in hot waters last night out of blue. Since then, she has been trending on social media for having said that she had a crush on her own brother who is 7 years older than her. 
Now, the Baazi singer has finally addressed her the controversy surrounding her old statement. Breaking her silence, Baig took to her Instagram account to address the controversy, saying that she usually does not come forward to clarify her statements but this one caught her attention when her publicist sent this post.
Read more: Has Aima Baig really said she had a crush on her own brother?
"I am utterly disgusted by this yellow journalism. What creepy shameless, ideology they are sharing across," she wrote, adding that she doesn't know if they are spreading some shameless agenda but at least "don't make me a part of this."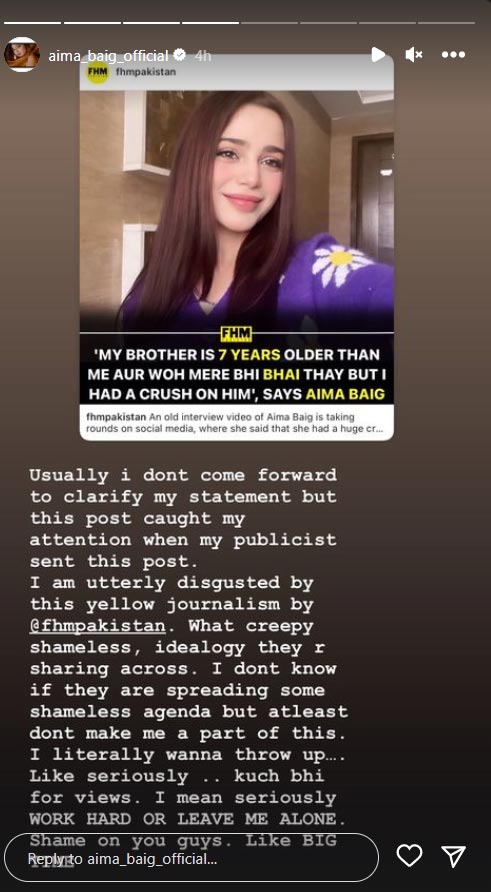 She added, "I literally wanna throw up…Like seriously… kuch bhi for views. I mean seriously WORK HARD OR LEAVE ME ALONE. Shame on you guys."
She also shared the link to the original video clip as she claimed that the publication was still uncompromising on its take. In the old interview with Samina Pirzada, the singer was asked about her first crush and she said that her first crush was her elder brother's friend. 
She then mentioned that her brother is seven years older than her.  However, the video clip that went viral didn't include the part where she was saying that her crush was her brother's friend and not her brother.