Thousands of pro-Palestinian demonstrators march in Europe
LONDON: Thousands of pro-Palestinian demonstrators marched through London and other British cities on Saturday to protest against Israeli airstrikes on the Gaza Strip.
Protesters called for sanctions on Israel during the march in London. Some were draped in Palestinian flags and set off green and red smoke flares. Others carried banners declaring "Free Palestine", "Stop bombing Gaza" and "Sanctions on Israel".
Pro-Palestine solidarity marches wer held around the world in a continuation of weeklong demonstrations, with protesters demanding their respective governments impose sanctions and a military embargo to cut the supply of weapons to Israel.
A solidarity protest in the capital, Paris, was held with thousands attending the march.
"A ceasefire does not resolve the question. This fight concerns all those who are attached to the values of justice, dignity and law," said Bertrand Heilbronn, president of the France Palestine Solidarity Association which organised the Paris rally and other demonstrations.
The marchers shouted slogans such as "Palestine will live, Palestine will win", "Israel assassin, Macron accomplice", and "We are all Palestinians."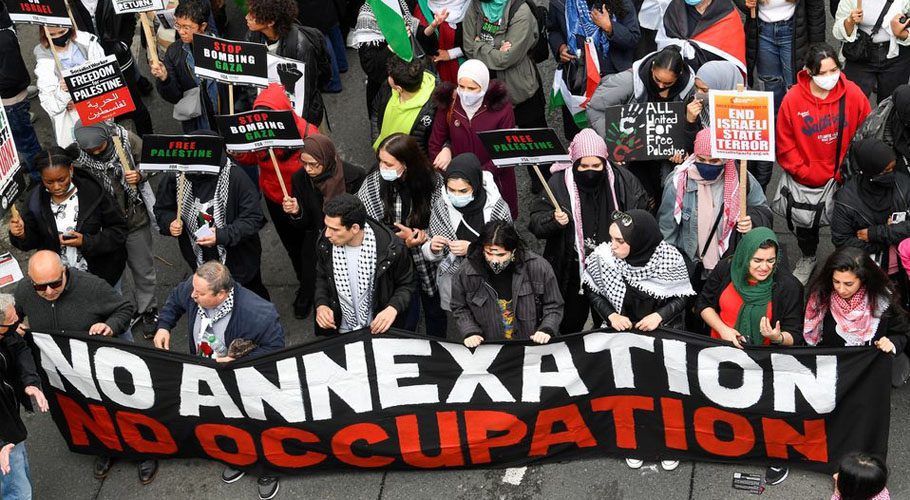 Hundreds of people rallied in support of Palestinians in demonstrations held in the German cities of Frankfurt and Berlin.
In Berlin, hundreds came to the rally, many waving Palestine flags and carrying posters that read "Free Palestine," according to a German agency reporter.
Many chanted "Palestine will be free from the river to the sea" at the event titled "The events in Palestine and the German media".
A ceasefire on Friday, mediated by Egypt, ended 11 days of hostilities, during which the Israeli military pounded Gaza with air strikes. Gaza medical officials said 248 people were killed in the Palestinian enclave, and aid officials have expressed concern about the humanitarian situation there.
Health officials said 13 people were killed in Israel in the hostilities, during which the Israeli military said Hamas, Islamic Jihad and other groups fired around 4,350 rockets, many of which did not reach Israel or were intercepted.