Sweden unveils climate activist Greta Thunberg stamp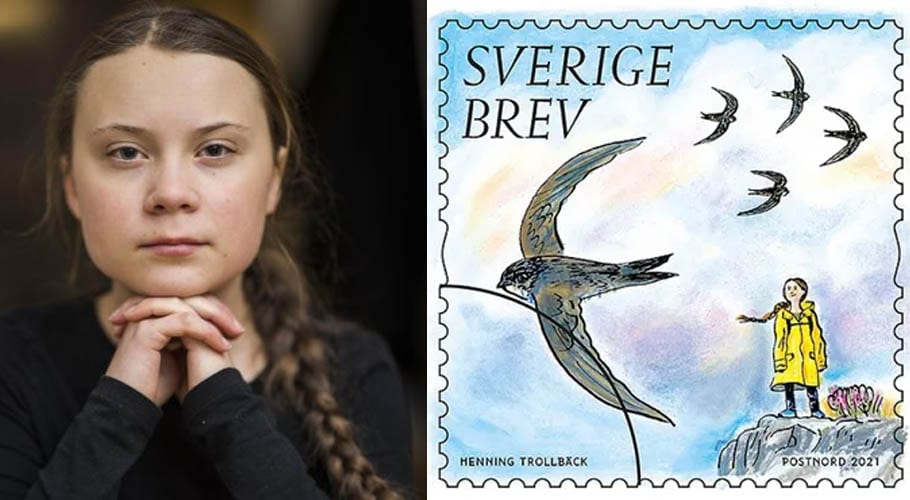 STOCKHOLM: Swedish teenage environmental activist Greta Thunberg will appear on a postal stamp that will be issued in her native Sweden and is part of a series focusing on the environment.
The stamps "should reflect our time, where the environmental issue has been relevant and present for many years, not least through Greta Thunberg's strong voice," Sweden's postal company Postnord said in a statement.
Kristina Olofsdotter, managing director for stamps at the postal company said appearing on a stamp "means that a person is doing something extraordinary".
One stamp – with Thunberg in her trademark yellow raincoat, standing atop a hill and with her braid blowing in the wind – is part of a five-stamp series themed "Valuable Nature". The stamps cost 12 kronor ($1.44) each and are illustrated by Swedish artist Henning Trollback.

The stamps features some of the 16 environmental quality goals recently drawn up by the Swedish government, including habitats designated as important to protect, said the national postal service.
Other stamps in the set, intended for domestic letters, feature high mountains and flora, a forest, an agricultural landscape and a uniquely biodiverse bog. This year's European stamps include a picture of the endangered green spotted toad.
Thunberg, who just turned 18, rose to prominence for weekly solo protests outside Sweden's parliament in Stockholm that she started on August 20, 2018. Students around the world soon began following her lead, staging regular large protests, and she was invited to speak to political and business leaders.
The coronavirus outbreak has prevented the Fridays for Future movement that Thunberg inspired from holding its mass rallies in recent months, lowering its public profile.
Previous stamp series in Sweden have portrayed Astrid Lindgren, the children's author who created Pippi Longstocking, the footballer Zlatan Ibrahimović and the late DJ and producer Avicii.