Storm water drains remain choked-Karachi risks flooding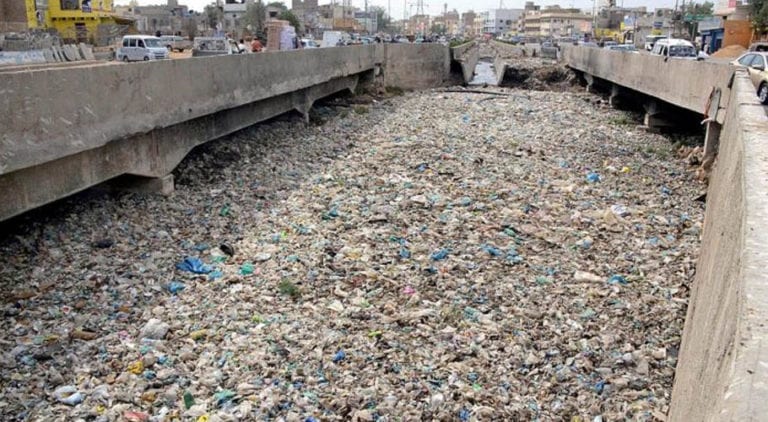 National Disaster Management Authority and Meteorological Department had issued urban flood warnings as heavy monsoon rains were expected. Cleanliness of drains could not be done as the provincial government didn't release funds for the task despite a warning of urban flooding in major cities.
Warning of urban flooding
The Meteorological Department has recommended the National Disaster Management Authority and other agencies to remain alert and ensure timely cleaning of drains in the cities.
According to the Meteorological Department, this year  the monsoon rains in the country will be 10 percent more than normal while the monsoon rains in Kashmir and Sindh maybe 20 percent more than normal.
Monsoon rains could cause flooding in the eastern rivers of the country and there would be a risk of urban flooding in the metropolis.
More than 500 stormwater not cleaned
More than 500 small and large stormwater drains in the metropolis have not been cleaned, while 27 large drains are clogged with trash and mud which can cause a disaster in the upcoming rainy season.
Major localities of the metropolis, including North Nazimabad, North Karachi, Malir and Saddar, Korangi Liaquatabad, Garden could be inundated.
While, monsoon rains could trigger massive traffic jams on the roads seen at Sharea Faisal, Karsaz, Hassan Square, University Road, Defence, Clifton, North Nazimabad, Teen-Hatti Chowrangi, Qalandria Chowrangi, Orangi Town, Nazimabad, University Road, Gulshan-e-Iqbal 13-D, Shahrah-e-Pakistan, Five Star Chowrangi, KDA Chowrangi, Qayyumabad Chowrangi, Landhi, Korangi and other areas as poor drainage system persisted.
Planning flaws
In the first few decades of Independence, Karachi had an efficient drainage system with scores of naturally-occurring nullahs carrying rainwater into the Lyari and Malir rivers which flow to the sea.
However, with rapid growth and haphazard development, these nullahs became the receptacles of garbage and sewage in the absence of a planned sewerage network or a city master plan.
The last major investment made to prevent flooding in the city was the construction of the Malir River embankment which was done after the river overflowed in July 1977 during record rains and the Malir and Korangi industrial areas were inundated.
Since then, there haven't been any physical structures made for flood control nor investments made in the drainage system.
Weak and inefficient urban infrastructure designs that don't account for local topography and climate are also a reason for floods so often in the city.
Furthermore, the intermediary drains leading to big nullahs which are themselves far in between also full of garbage or encroached upon, leaving no path for any accumulated water to head to the nullahs.
No cash to clean Karachi's stormwater drains
On 24 June, Mayor Karachi Wasim Akhtar had said that the Karachi Metropolitan Corporation (KMC) did not have resources to clean the drains from its own resources, urging the provincial government to release funds for the task.
Akhtar also expressed displeasure over deduction by the Sindh government in funds for local bodies and said that the third tier of the government had already been facing severe issues and the deduction would increase their problems.
He said the KMC didn't have funds even to pay dues of retired employees. "There is a need to listen to issues of local bodies on urgent basis.,"
No new development program
Despite all the earlier claims of the Pakistan Peoples Party-led Sindh government that it had made ample preparations for the monsoon season, the rain plays havoc with the city every year as with no proper drainage mechanism in place.
Karachi had already been facing severe issues and non-approval of uplift schemes would surely increase its miseries while it was very sad that the Sindh government didn't incorporate even a single new scheme for the development works in next year.
Combat urban flooding
To combat urban flooding government needs to clear the channels – the river, the drains and the then the intermediary channels.
Leaving open spaces in footpaths for water to be absorbed and being mindful of rainwater drainage needs when designing infrastructure projects would also help in reducing urban flooding.
There is also the need for a complete city master plan for drainage. Until corruption from local bodies and KMC is eradicated, drainage problems will remain standstill.
Appeal of citizens
On the other hand, a large number of citizens have appealed to the Chief Minister Sindh, Commissioner Karachi and higher authorities to save the city of light from destruction during monsoon by issuing funds for cleaning the drains in the metropolis.
Responsibilities of people
It should be noted that the government alone is not responsible for every issue. Citizens who live near storm drains always throw their garbage in the drains instead of in the garbage dump which led to more problems.
As responsible citizen it is our duty to avoid throw garbage in the water drains.
We need to make sure that we know proper disposal rules. Children should be educated on the need for safe trash disposal. Residents need to take the initiative to correct others when they see improper disposal.
Warnings should be issued to residents who are found to dispose of wrongly and fines should be imposed when caught currently.
We must keep our surroundings neat and clean to help healthy and better lives and for the betterment of society.