Stock market falls amidst lacklustre trading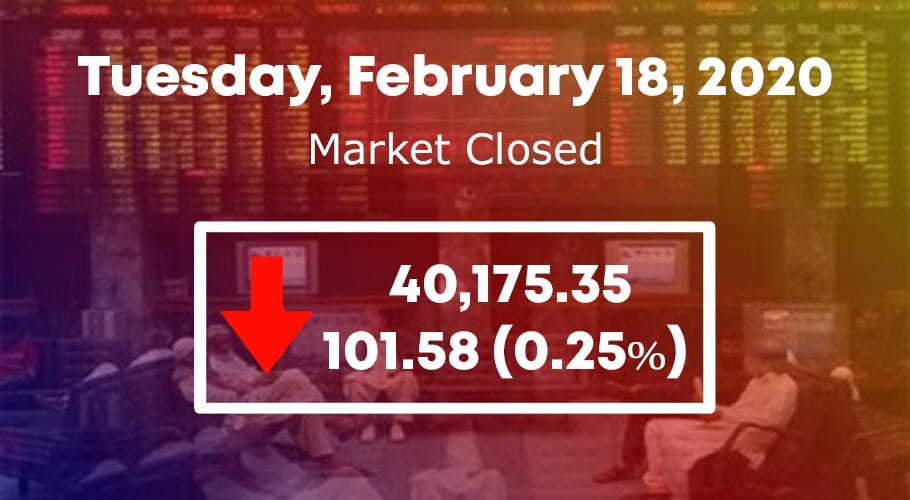 KARACHI: A day after the stock market fell flat over muted activity, the market declined on Tuesday shedding over a hundred points in a day during intra-day trading.
The KSE 100 index declined by 101.58 points (0.25%) and close at 40,175.35 points. The indices reached its highest level at 40,600.80 points but could sustain the trajectory and fell before trading was suspended. The total volume of scripts was 70.397 million valued at Rs4.498 billion.
The lower bench KSE 30 index also declined by 195.59 (-0.70%) and closed at 27,807.10 points. The total volume of scripts was 91.643 million. The top active stocks saw a decline in share prices with the exception of Unity (0.58%), HBL (1.64%), DGKC (0.02%), and Summit Bank (7.62%). There was a decline in share prices of PSO (-5.55%), Lotte Chemicals (-1.53%), Kapco (-2.80%), K-Electric (-0.73%), BOP (-1.70%), and Hascol (-1.07%).
The stock market has been experiencing a lackluster trading day this week. There was dull trading as the volume of shares declined ahead of the release of the financial results of major companies. The market is also anticipating the decision of the Financial Action Task Force (FATF) which is discussing Pakistan's fate on the grey list. The meeting could continue till February 21 but any surprise move could move the stock market.
The Ministry of Finance also dismissed speculations and clarified that tough prior actions were not required before the International Monetary Fund (IMF) releases the third tranche worth $450 million of the bailout package and the government's reform programme remains on track.