SRK's son Aryan Khan to reportedly leave jail today
MUMBAI: Bollywood star's son Aryan Khan has been granted bail and according to sources he is going to leave jail today.
Indian trouper Shah Rukh Khan is in a joyous mood after his son Aryan got bail yesterday from Mumbai High Court. According to his advocate Satish Maneshinde, Aryan will leave jail today as he said, "We expect Aryan to be out of jail in the evening today itself."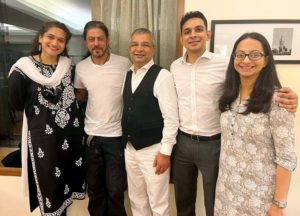 Moreover, several pictures of SRK are doing rounds on social media ahead of Aryan's bail in which he is posing with the team of his lawyers who helped him bail grant in case. According to sources, fans have gathered 'Dilwale' star's mansion and burst firecrackers too.
Read also: Shahrukh Khan's son Aryan granted bail in Mumbai drug case
Though, The Bombay High Court on Thursday granted Aryan Khan bail three weeks after he was arrested in connection with a drug case earlier this month. A single bench of Justice N W Sambre has also granted bail to his co-accused, Arbaaz Merchant and Munmun Dhamecha.
According to Indian media, Narcotics Control Bureau (NCB) had opposed Aryan's bail plea and accused him of being a "regular consumer of drugs" as well as involved in illicit drug trafficking. They also argued that he was in "conscious possession of contraband".