SP Railways removed over corrupt practices disclosed by MM News
KARACHI: Pakistan Railways on Monday removed Superintendent of Railway Police (SRP) Kausar Abbas over corruption charges and gave the provisional charge of the post to Qaiser Bashir Makhdoom.
The action was taken on the order of Inspector General (IG) Railway Police after MM News pointed out on Sunday the involvement of corruption in the postings and transfers of 53 Railways officers and employees. Action is also likely against other officers involved in the corruption.
According to a letter faxed to the Karachi office by Railways Headquarters LAHORE, CPO Dr. Muhammad Waqar Abbasi has removed DSP Kausar Abbas, who also had a temporary charge of the Superintendent of Railway Police, on corruption charges and has been ordered to report to CPO office Lahore.
According to the notification, the provisional charge of the post has been given to AIG Admin Qaiser Bashir Makhdoom who will remain on the post till the appointment of a permanent SRP.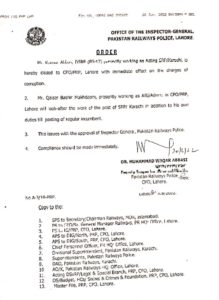 It has been written in the notification that the said order has been issued following the order of IG Railway Police. Due to this, it should be implemented as soon as possible.
It should be noted that the removed officer is accused of allegedly taking bribes to transfer and post a large number of officers and this illegal action was disclosed by MM News on Sunday, however, the officers who have gotten illegal transfers and postings are still working on the new posts.
Officers accused of aiding and abetting bribery include Cant and City Railway Police SHOs, Muharrar Cantt, ASI Tariq Bashir, OISI Habib Zafar, Reader Shan, Deputy Reader Abid, and others.