Shehbaz Sharif to return tomorrow after four months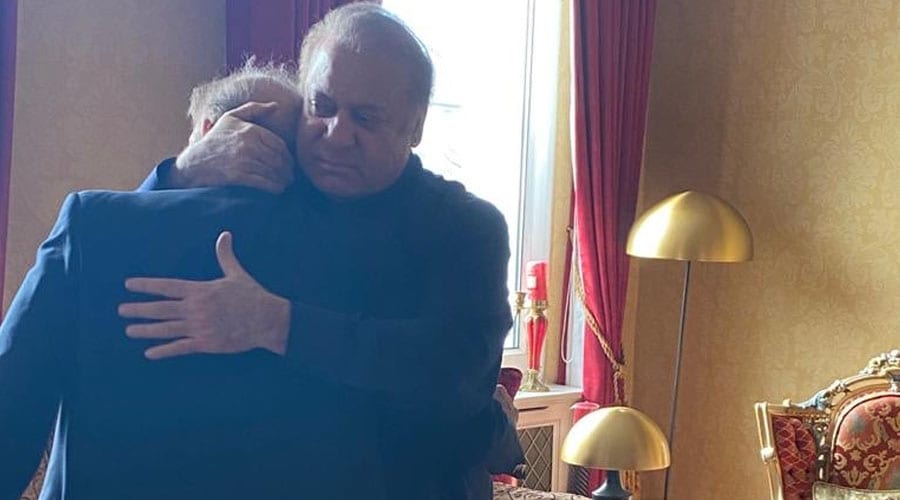 LONDON: PML-N President Shehbaz Sharif will return to Pakistan on Sunday morning after remaining in the United Kingdom for over four months.
According to party spokesman Marriyum Aurangzeb, the PML-N Leader has decided to return to the country "in view of the situation of the spread of coronavirus".
Shehbaz Sharif is expected to land in Islamabad in the wee hours of Sunday. Before departure, he was embraced by his brother Nawaz Sharif and their elderly mother.
پاکستان مسلم لیگ (ن) کی ترجمان مریم اورنگزیب کا بیان

پاکستان مسلم لیگ (ن) کے صدر اور قائد حزب اختلاف شہباز شریف کا آج رات وطن واپس آنے کا فیصلہ

شہباز شریف آج رات اسلام آباد پہنچیں گے

کورونا وائرس کے پھیلاؤ کی صورتحال کے پیش نظر شہباز شریف نے وطن واپسی کا فیصلہ کیا

— Marriyum Aurangzeb (@Marriyum_A) March 21, 2020
She said that the decision regarding the operation of former prime minister Nawaz Sharif will be made within a week. "Shehbaz Sharif has decided that nation needs him. He is coming to help in the fight against the coronavirus," she added.
The PML-N president had left for London in November last year along with his elder brother Nawaz Sharif, who was allowed to travel abroad by the government and courts to seek medical treatment.
— Shehbaz Sharif (@CMShehbaz) March 21, 2020