SC to announce reserved verdict in Justice Isa's case today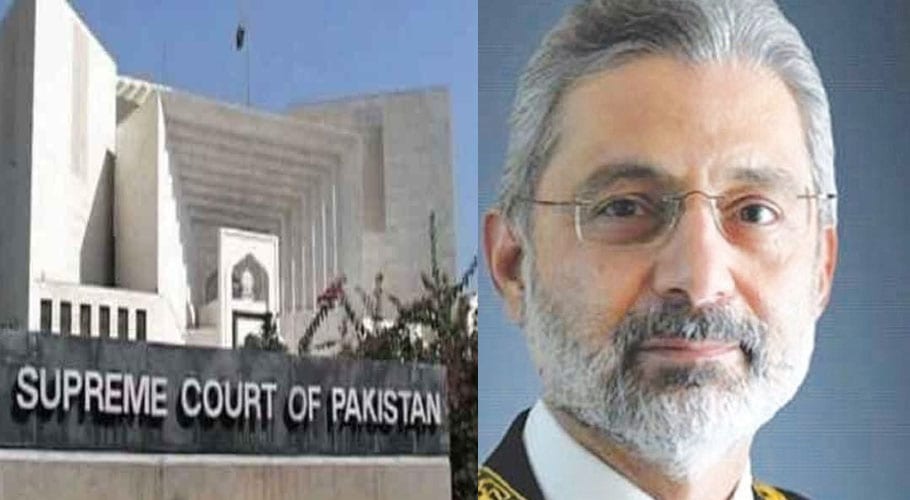 ISLAMABAD: Supreme Court will announce the reserved verdict on the presidential reference filed against Justice Qazi Faez Isa.
Earlier this month, the government confirmed that a presidential reference had been filed in the Supreme Judicial Council against the judge for owning foreign assets. Justice Isa has been accused of misconduct over the failure to declare his wife and children's UK properties.
According to the Justice Isa, his wife and children have on their names three properties in the W2, E10, and E11 areas of London between 2011 and 2015.
Justice Isa had challenged the reference in the Supreme court. He asked that the reference should be revoked and PM's Assets Recovery Unit be termed null and void. He even asked for action to be taken against Special Assistant on Accountability Shahzad Akbar.
During the previous hearing, Justice Qazi Faez Isa's lawyer Munir Malik submitted sealed documents of Justice Qazi Faez Isa's wife in the Supreme court.
He stated in the court that Justice Qazi has never associated his wife's property with him. "It seems that the government has mistakenly come to SC instead of going to FBR for this case," he added. 
Moreover, Justice's wife had bought her first property in London in 2004 and her passport was accepted for the purchase of property in the United Kingdom. She further told the court that her agricultural land, which she inherited from her father and does not belong to the husband, is in district Jacobabad.