Coronavirus: Routine activities remain suspended in Karachi lockdown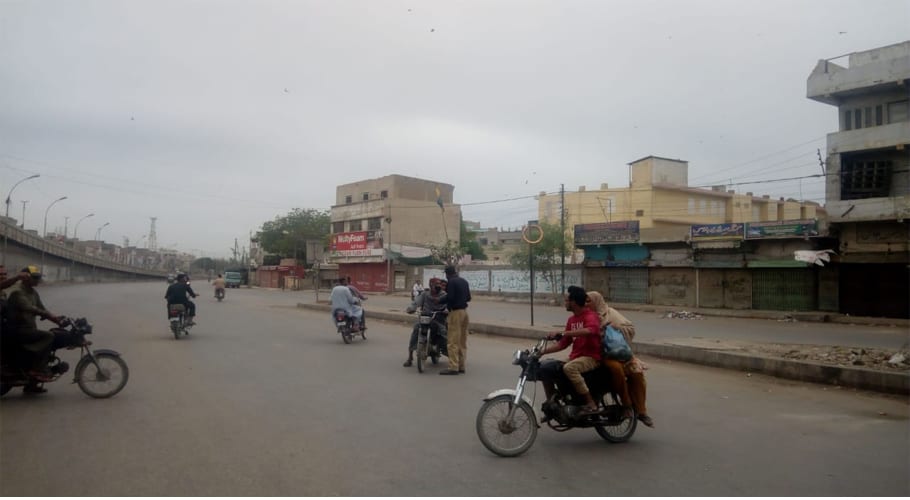 KARACHI: In the wake of coronavirus outbreak all the markets, business activities remained suspended with very low public transport on the roads being the first day of the Sindh Governments' announcement of lockdown for 15-days.
A heavy contingent of Sindh Police and Pakistan Rangers Sindh were seen patrolling the streets while barriers were also put at various places of the metropolis. People are only being allowed out of the house in case of an emergency situation.
The increasing tally of the COVID-19 affected patients on Monday stands at 352. Sindh Chief Minister Syed Murad Ali Shah the earlier had announced province-wide lockdown to stop the spread of coronavirus outbreak.
Sindh police arrested a total of 222 people and registered 33 FIRs against them over the violation of government orders in Karachi, while, 472 people arrested by police from Sindh and 66 cases were registered against them.
The provincial intra city transport has also banned. Sindh Transport Minister Awais Shah said on Monday Intra-city transport is banned in the province due to lockdown amid growing cases of coronavirus.
In a statement, the transport minister said the buses, coaches, coasters and public transportation of all kinds have been ordered to keep off the roads during the lockdown period.
The statement further said online transport services are also banned in the across Sindh, the concerned staff has been instructed to make sure the ban in order to minimize the threats of coronavirus spread.
It said so far 300 vehicles have been challenged and 20 impounded on Monday, the statement read.
The minister said in the statement, fifteen vehicles have been booked over violations of the lockdown and route permits of 50 vehicles have been canceled.
Meanwhile, Sindh Information Minister Saeed Ghani revealed that he has tested positive for the novel coronavirus (COVID-19).
In a shocking development, in a video message posted on his twitter account, he said that he has been diagnosed with Coronavirus, He said he is not feeling any of the symptoms of the virus still he tested positive for coronavirus.
He has self-isolated himself at his house. He has also requested the people who met him in the past few to days to put themselves in quarantine and take care of themselves
Ghani said he took a test for the coronavirus yesterday which has been declared positive.
گذشتہ روز میں نے کورونا وائرس کا ٹیسٹ کروایا جسکی رپورٹ مثبت آئی ہے تاحال جو Symptoms اس وائرس کے بتائے جاتے ہیں ان میں سے مجھے کچھ محسوس نہیں ہورہا اور میں خود کو بالکل صحتمند محسوس کررہا ہوں اور اپنی ذمہ داریاں گھر پر isolation میں رہ کر ادا کررہا ہوں۔ شہری بھی گھروں پر رہیں pic.twitter.com/2vzS7qt0SY

— Senator Saeed Ghani (@SaeedGhani1) March 23, 2020
Total confirmed cases: 803
Sindh: 352
Punjab: 225
Khyber Pakhtunkhwa: 31
Balochistan: 108
Islamabad Capital Territory: 15
Gilgit-Baltistan: 71
AJK: 01
The death toll due to deadly coronavirus in Pakistan has surged to six with the number of cases on the country still going up.
Deaths: 06
Khyber Pakhtunkhwa: 03
Sindh: 01
Balochistan 01
Gilgit Baltistan: 01