CTD issues initial probe report of Rawalpindi blast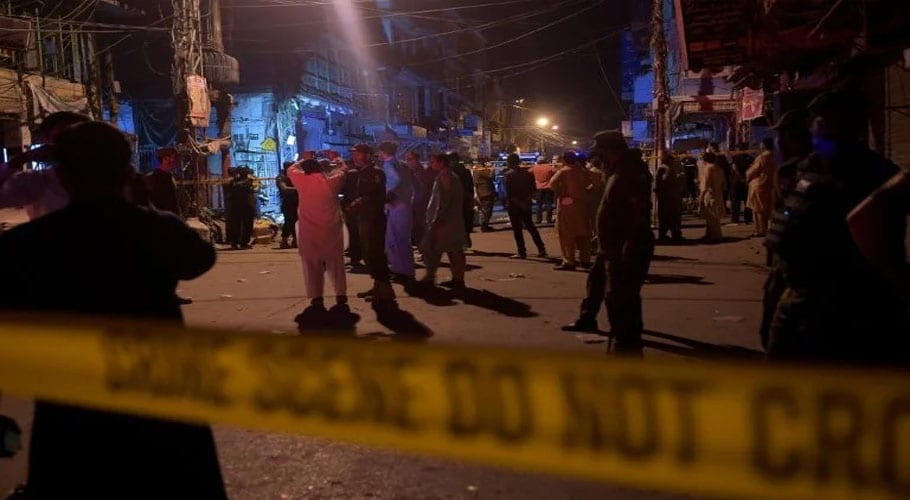 RAWALPINDI: The Counter-Terrorism Department (CTD) has issued an initial investigation report about the Friday blast in Rawalpindi, which killed one person and injured 12.
According to a CTD spokesperson, the blast occurred at 8:43 pm near the city's Koyla Center, Saddar. An IED was used in the blast. It was placed near an electric pole. It made a crater in the ground after the explosion.
The spokesperson further said security agencies have found evidence of Indian spy agency Research and Analysis Wing's (RAW) involvement in yesterday's blast.
There was no evidence of ball-bearings found in the initial investigation, the spokesperson said.
Two carts and two motorcycles were destroyed in the explosion.
Rawalpindi police spokesman Sajjad ul Hassan had said on Friday that no group had claimed responsibility for the attack.
Earlier, a man was killed while 12 others were injured after an explosion occurred in Rawalpindi's Saddar area on Friday.
Speaking about the incident, Deputy Commissioner Rawalpindi had said that one person died due to the blast while 12 were injured. The blast had damaged a fruit card along with three motorcycles that were in its radius, he added.
He said materials used to formulate the bomb will be determined after a thorough laboratory examination. He added that two of the injured were taken to Cantonment General Hospital while 10 were shifted to District Headquarter Hospital.
The spokesperson for Rawalpindi police said that the blast was an "attempt at organized terrorism but those playing with the lives of the public would not be able to escape the law". Properties around the site of the explosion were also been badly damaged.
Meanwhile, Punjab Minister for Law Raja Basharat had directed a quick inquiry of the blast and also sought a detailed inquiry from officials within 24 hours.