Punjab Assembly approves annual budget worth Rs2.6 trillion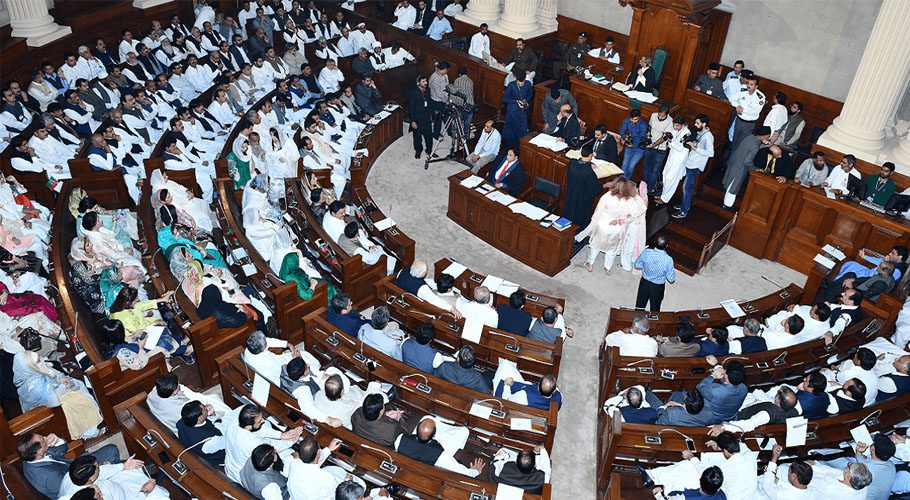 LAHORE: The Punjab Assembly has approved the budget of its province worth Rs 2.653 trillion by a majority vote for the fiscal year (FY) 2021-22 during its session.
According to details, Finance Minister Hashim Jawan Bakht presented the finance bill of the provincial budget in the Punjab Assembly, which was approved by a majority vote. Meanwhile, protests against raids on the Punjab Assembly floor and arrests of PML-N workers continued but were ignored by government benches. 
PML-N member Tawfiq Butt said that police were raiding the houses of PML-N workers and arresting them. The Punjab government should explain why this is being done. To which, the Speaker Punjab Assembly directed the Provincial Law Minister to look into the matter of police raids and operations on the houses of PML-N workers.
Read more: Sindh Assembly approves Budget 2021-22 amid opposition's protest

Moreover, Speaker Chaudhry Pervaiz Elahi, on completion of day's agenda, adjourned the session till Monday 28th June. It may be recalled that earlier the Sindh Assembly had approved a budget of Rs 1,477 billion for the new financial year.  The opposition party lawmakers surrounded the speaker's rostrum and pasted banners and raised slogans.   
After the concluding speech of the chief minister, the Sindh assembly approved the budget for the fiscal year 2021-22 amid the hue and cry of the opposition.