PSX surges to regain 34,000 points level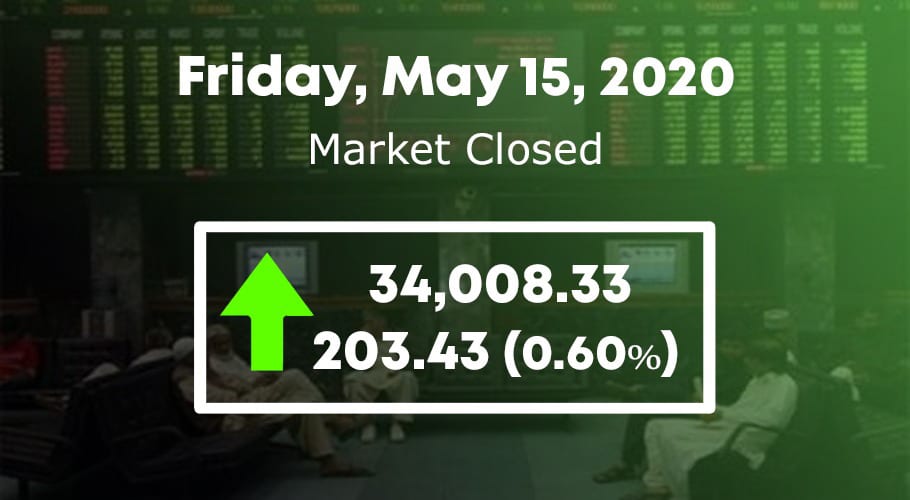 KARACHI: The Pakistan Stock Exchange witnessed an upward trajectory on Friday and regained the 34,000 points level to end the week on a positive note.
Stocks rallied on last session of the week as investors waited for announcement of the monetary policy. This was subdued by Moody's announcement that Pakistan credit ratings were under review for downgrade.
The benchmark KSE 100 index gained 203.43 points (0.6%) and closed at 34,008.33 points. The indices jumped by 184.99 points before it slipped down. However, the bourse rebounded and headed north before trading was suspended. The total volume of shares was 122.259 million valued at Rs5.093 billion.
The lower bench KSE 30 index gained 85.08 points (0.57%) and closed at 14,903.66 points.The KMI 30 index settled at 55,362.08 after accumulating 597.24 points. The KSE All Share index gathered 188.04 points ending at 24,208.02.
Out of total scripts traded, 166 advanced and 126 declined. The sectors adding maximum points to the KSE 100 index included Oil and Gas Exploration sector (109.47 points), Power Generation and Distribution sector (57.74 points) and cement sector (50.45 points).
Hub Power Company Limited (HUBC 53.28 points), Nestle Pakistan Limited (NESTLE 34.44 points) and Mari Petroleum Company Limited (MARI 33.48 points) were top points contributors.
Despite a positive trend in market, the banking sector lost -0.65% from its total market capitalization. MCB Bank Limited (MCB -1.50%), United Bank Limited (UBL -1.67%) and Bank Al-Falah Limited (BAFL -0.96%) all ended up in the red.
The oil and gas exploration sector gained 2.33% in its cumulative market capitalization. Oil and Gas Development Company (OGDC 1.70%), Mari Petroleum (MARI 3.95%), Pak Petroleum Limited (PPL 1.59%) and Pakistan Oilfields (POL 3.28%) all closed positive.
The KSE 100 index gained 2.22 percent during the week adding approximately 740 points. The index has remained flat during the month. The average market volumes during the week were recorded at 219.09 million with value traded of Rs6.47 billion.