PSX ends volatile session on negative note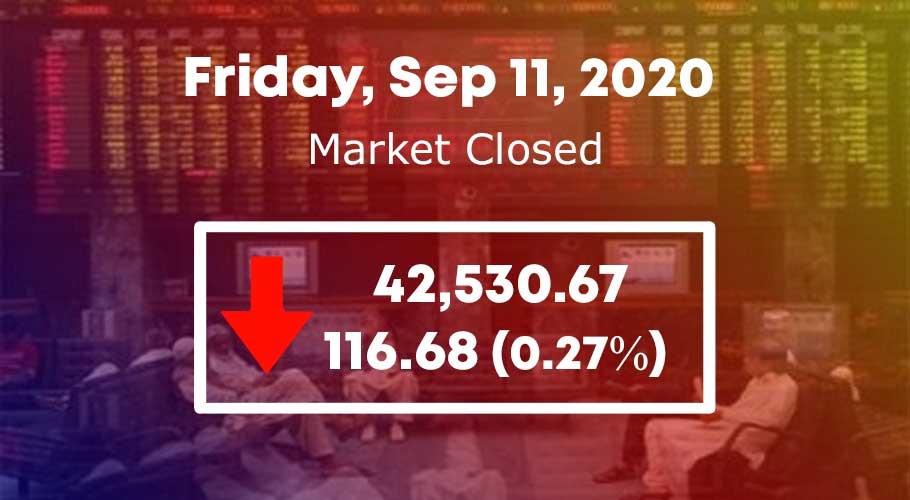 KARACHI: The Pakistan Stock Exchange (PSX) held a volatile session today (Friday) and ended the trading session on a negative note.
The benchmark KSE 100-index ended the Friday session with a loss of 116.68 points and closed at 42,530.67. Gaining 222.34 points the KSE 100 index climbed up to its intraday high of 42,869.69. It then lost momentum and fell to day's low of 42,457.53 (down by 189.82 pts).
The index settled lower by 116.68 points at 42,530.67 points. The KMI 30 index depreciated by 412.63 points closing at 67,986.88 points, while the KSE All Share index fell short by 134.16 points ending at 30,246.21 points.
Overall market volumes shrank from 884.94 million shares to 525.57 million shares. Hascol Petroleum Limited (HASCOL +4.10%), Byco Petroleum Pakistan Limited (BYCO -5.84%) and Pakistan International Bulk Terminal Limited (PIBTL -1.09%) led the volume chart.
Sectors dragging the KSE 100 index lower included Oil and Gas Exploration sector (60.15 points), the Cement sector (59.53 points) and Food and Personal Care products sector (27.06 points).
Meanwhile, the rupee performed well against the US dollar which shed 43 paisas and was available for Rs165.97 in the inter-bank exchange rate.