PSX continues to bleed as KSE-100 drops over 775 points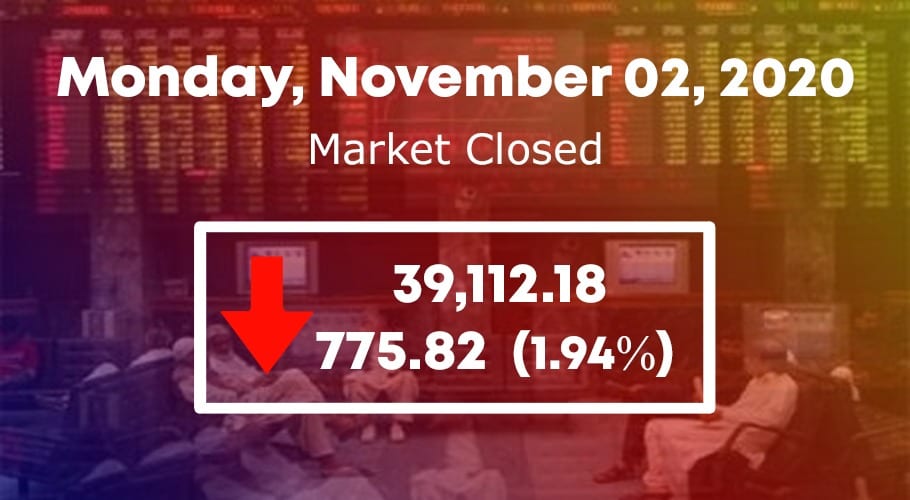 KARACHI: The Pakistan Stock Exchange (PSX) on Monday continued to bleeding as the KSE-100 index closed the session at 39,112.18 after going down by 775.82 points.
The benchmark KSE-100 Index remained in the negative throughout the day, recording its intraday low at 38,778.68 after shedding 1,109.32 points. It settled lower by 775.82 points at 39,112.18.
Among other indices, the KMI-30 Index plunged 1,375.53 points to close at 62,121.16, while the KSE All Share Index dropped 619.35 points, ending at 27,566.21.
The overall market declined from 541.8 million shares in the previous session to 322.3 million shares (-41pc). The average traded value also dropped by 41pc, from $127 million to $74.7 million.
Hascol Petroleum Ltd (HASCOL -7.45pc), Unity Foods Ltd (UNITY +1.92pc) and Pakistan International Bulk Terminal Ltd (PIBTL -2.24pc) led the volume chart, exchanging 32.40 million, 31.20 million and 20.16 million shares, respectively.
Sectors that dragged the benchmark index lower included banking (-186.47 points), oil & gas exploration (-143.52 points) and the oil & gas marketing sector (-70.89 points).
Among the companies, Habib Bank Ltd (HBL -68.79 points), Oil and Gas Development Company Ltd (OGDC -66.79 points) and Pak Petroleum Ltd (PPL -60.37 points) dented the index the most.
Losing 6.34pc from its total market capitalization, the refinery sector ended as the session's top loser, with Attock Refinery Ltd (ATRL -4.80pc), Pakistan Refinery Ltd (PRL -5.83pc), National Refinery Limited (NRL -5.38pc) and Byco Petroleum Pakistan Limited (BYCO -7.20pc) posting significant losses.
According to a PSX notification, UBL Pakistan Enterprise Index (UPP9) has carried its re-composition as of October 29, 2020.
DG Khan Cement Company Limited (DGKC +0.98pc) would be added to the index while Bank AlFalah Limited (BAFL -1.81pc) would be removed. The changes would be implemented tomorrow (November 3).