Police busted 40-member dacoit gang in Punjab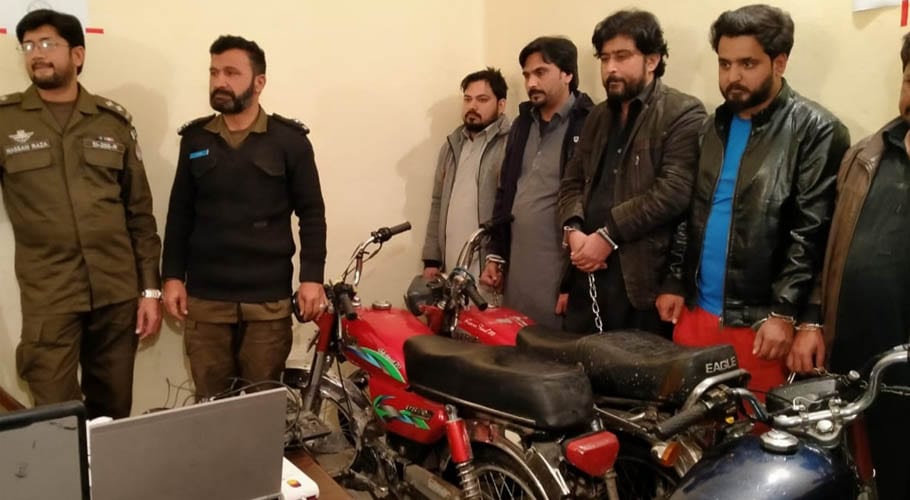 JHANG: Police have busted a 40-member inter-city gang of robbers and arrested its 11 members from Jhang area of the Punjab on Tuesday.
According to the district police officer (DPO) Jhang, acting on intelligence reports, the police apprehended 11-members of the gang and recovered valuables worth Rs 8.5 million from their possession.
The items seized during the police action included three four-wheeler vehicles, 22 motorcycles, looted gold, mobile phones and other items.
The police have shifted the arrested suspects to police station for further interrogation.
Meanwhile, Special Investigation Unit (SIU) of Sindh police has arrested a gang of five alleged robbers and recovered three unlicensed pistols, jewellery, mobile phones, cash, and other valuables from their possession.
According to Senior Superintendent of Police (SSP) Irfan Bahadur, the dacoits' gang was involved in over 100 cases of street crime, bank robberies and other criminal activities. He maintained that the gang usually targeted those who were withdrawing cash from ATM machines or banks.
During an initial probe, the suspects "confessed" to committing house robberies in North Karachi, Ferozabad, Bahadurabad, Aziz Bhatti and Nazimabad areas of the city.
On May 2, Pakistan Rangers Sindh and police have recovered a man, who was abducted last month, and arrested four kidnappers in a joint operation in Karachi.
According to a spokesman for Rangers, a phone call was received on 27 April, that some unknown persons, posing as intelligence agency personnel had kidnapped a man, Ghulam Shabbir from Mehmoodabad area.
 Later, a kidnapper, who introduced himself as Major Asfand, contacted Shabbir's relatives. Later, Asfand had met with the family of the abducted man and demanded Rs 50 million ransom.
He also threatened to kill the abductee if the family contacted Rangers or police, the rangers' spokesman said in statement.
Shabbir was rescued by the law enforcement agencies in a joint operation conducted by Pakistan Rangers and Special Investigation Unit (SIU) of Sindh police. Four kidnappers were also arrested during the raid while two managed to escape.