PM urges bureaucracy to consider vision of Pakistan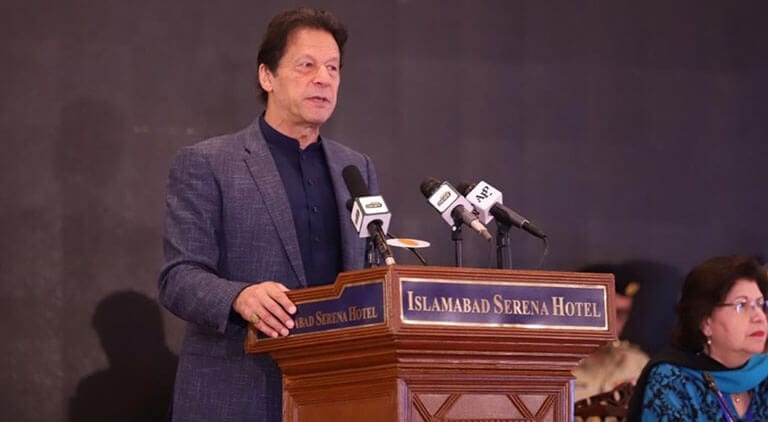 ISLAMABAD: Prime Minister Imran Khan on Monday said that Pakistan was standing at the crossroads of history and urged the bureaucracy to translate the vision of political leadership for the country's development and people's prosperity into reality.
The Prime Minister was addressing participants of 109th National Management Course from National School of Public Policy.
READ MORE: PM Imran Khan to chair CCI meeting on December 11
Prime Minister Khan said that being backbone of the state, bureaucracy has a huge responsibility to deliver and come up to the expectations of the nation.
Highlighting huge potential of the country including the human capital, mineral wealth, strategic location and other resources,
Premier Khan underscored the need for better management of available resources, improving service delivery and most importantly a commitment and passion to serve the nation to the best of one's abilities.
The meeting with senior civil servants from various occupational groups and cadres was later turned into an interactive session.
Prime Minister shared his vision with the participants and answered their questions.
READ ALSO: PM Imran Khan hails SC verdict on Gen Bajwa's extension
Discussing current economic situation and various other challenges faced by the country including the menace of corruption, rapid population growth etc.
PM Khan said that the government was focusing on stabilization measures along with undertaking institutional reforms with an aim to improve vital sectors such as education, health, governance etc.
He said that the local government system being introduced by the present government would help addressing many issues through empowerment of the people's representatives at grassroots level.
In this context the Prime Minister also shared PTI Government's experience of reforms in Khyber Pakhtunkhwa in education, health, alternate dispute resolution and other areas.
READ MORE: PM Imran Khan to chair meeting of economic team
Addressing a question about Pakistan's recent initiative to improve Pak-India relations and the disappointing response from the other side of the border.
Khan said that it was unfortunate that Indian leadership is failing to realize that the biggest challenge confronting this region was alleviating poverty and improving socio-economic condition of the people of the region.