PM Shehbaz says Bhasha Dam project was initiated by Nawaz Sharif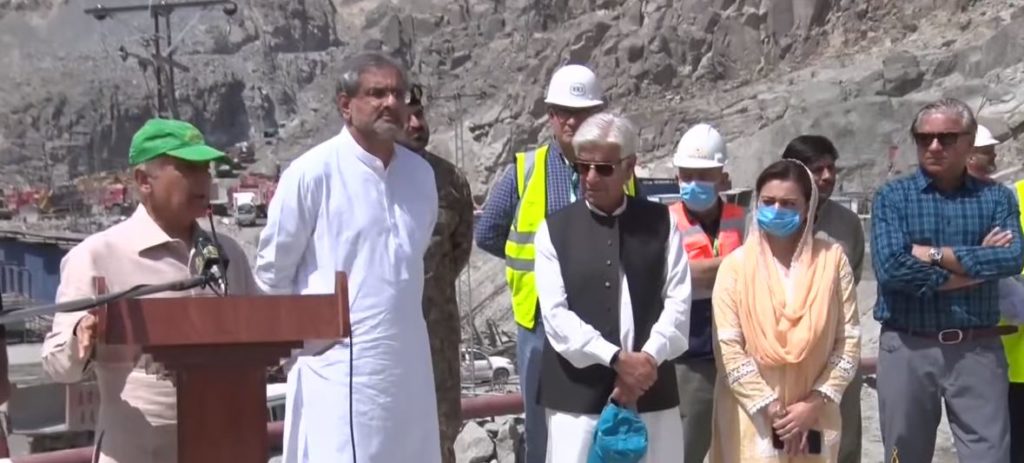 PESHAWAR: Prime Minister of Pakistan Shehbaz Sharif has said that the project of Diamer Bhasha Dam located in the Kohistan area of ​​Khyber Pakhtunkhwa was started by Nawaz Sharif government. Billions of rupees have been set aside for the construction of the dam.
According to details, the Prime Minister along with PML-N leaders Shahid Khaqan Abbasi, Khawaja Asif and Maryam Aurangzeb visited Diamer Bhasha Dam today. Speaking on the occasion, Shehbaz Sharif said that he had not come here to make any political speech.
During his address, Prime Minister Shehbaz Sharif said that Diamer Bhasha Dam is of great importance to the economy.
We need to think fast about big energy projects. Completion of Diamer Bhasha Dam will boost irrigation and agriculture, he added.
Read more: Voting for by-polls in NA-33 Hangu beings
Highlighting the importance of the dam project, Prime Minister Sharif said that the government wants foreign investors to invest in the country. The construction of the dam will increase the economic development of the country. This project should be linked to CPEC.
Addressing the senior officials involved in the construction of the dam, Prime Minister Shehbaz Sharif said that you are facing difficulties like severe weather and access to the area. The dam will irrigate agricultural lands as well as improve the economy.