PDM set to hold public rally in Peshawar today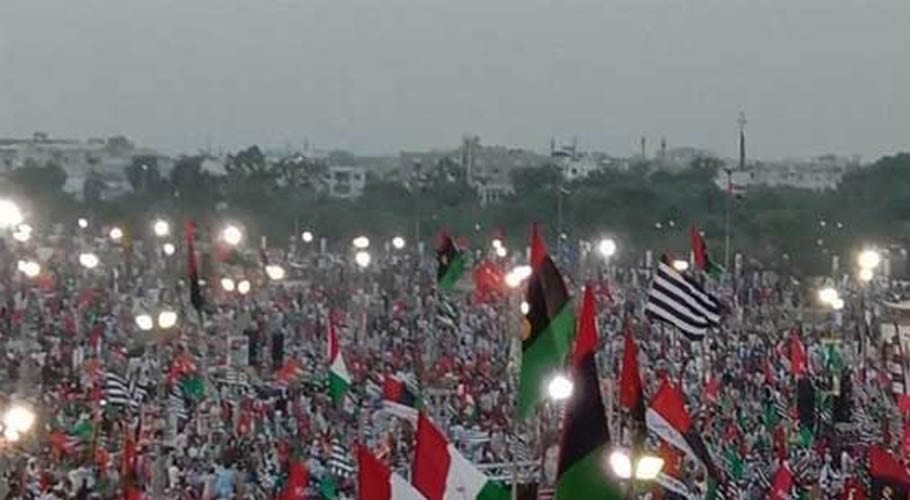 PESHAWAR: Pakistan Democratic Movement (PDM) is all set to hold a public gathering at Peshawar today (Sunday) despite the government's ban on rallies due to increasing cases of covid-19.
As per details,120-feet long, 32-feet wide and 8-feet high stage and some 50,000 chairs have been set up at the venue in Peshawar's Kabootar Chowk.
Jamiat Ulema-i-Islam-Fazl (JUI-F) chief and PDM chairman Maulana Fazlur Rehman, Pakistan Muslim League-Nawaz (PML-N)vice president Maryam Nawaz and Pakistan Peoples Party (PPP) chairman Bilawal Bhutto Zardari will address the rally.
Containers have also been placed at the spot while activists of different political parties have also gathered with their respective flags. Local leaders of political parties also distributed masks among the workers.
More than 4,000 police officers have been deployed for the PDM rally in Peshawar while over 1,000 wardens will manage the traffic.
On Saturday, Prime Minister Imran Khan and several ministers have assailed the Pakistan Democratic Movement (PDM) for holding the Peshawar rally.
The prime minister slammed the opposition for playing reckless politics over people's safety. While sharing Federal Minister for Planning Asad Umar's tweet, he wrote that the same PDM members who had wanted a strict lockdown and criticized me earlier now playing reckless politics with people's safety.
"They are even defying court orders and holding a Jalsa when cases are rising dramatically," the prime minister wrote.
The same PDM mbrs who had wanted a strict lockdown and criticised me earlier now playing reckless politics with people's safety. They are even defying court orders & holding a jalsa when cases are rising dramatically. https://t.co/nc9KAN0Ihg

— Imran Khan (@ImranKhanPTI) November 21, 2020
His tweet came after Asad Umar posted a tweet over the rapidly increasing number of coronavirus cases in Peshawar. According to the minister, the coronavirus positivity ratio was 13.39 percent on Friday in the city
Peshawar covid positivity ratio 13.39% yesterday. Patients in critical care: 202. Of these 50 on low flow oxygen, 134 on high flow and 18 on ventilators. 14 new critical patients just yesterday. PDM response : we will be safe on the stage so who cares what happens to citizens

— Asad Umar (@Asad_Umar) November 21, 2020