PDM fighting for personal, political interests: Hafiz Naeem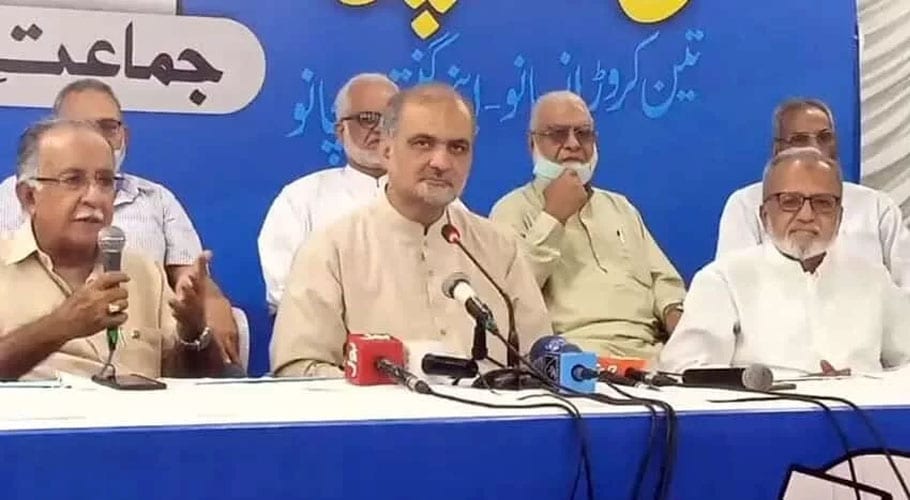 KARACHI: Jamaat-e-Islami (JI) Karachi Ameer Hafiz Naeem-ur-Rehman has said that the Pakistan Democratic Movement (PDM) was fighting for political and personal interests instead of protecting the national interests.
Addressing a press conference in the wake of the Karachi Referendum, the JI leader said, "The movement for rights of Karachi is not for and from the people of this city alone, now the people of Karachi will see that their voices and slogans would be raised and heard in every corner of the country".
He said, "The situation of Karachi is deteriorating now and the City of Muhammad Ali Jinnah has been rendered forlorn and helpless".
Hafiz Naeem claimed that none amongst the political parties owns Karachi and its issues, and pointed that even the APC -referring to the Pakistan Democratic Movement power show in the metropolis the other day- did not bother to enlist grievances of Karachi people.
"The opposition is organizing power-shows just to flex its muscle and get its court cases scrapped, and not to address the problems of the metropolis," he added. The JI leader also lamented that the grievances of the Karachi people were not discussed by the PDM.
He also expressed anger and disappointment with the incumbent government, adding that noting the government has been in power into the second year. Naeem said despite having won seats from Karachi, the government has made itself scarce for the people.
Hafiz Naeem also condemned the extension of the quota system for an indefinite period by the Pakistan Tehreek-i-Insaf (PTI) government calling it the ruling party's betrayal of the people of Karachi who chose it for the protection of their rights.
"JI would expose individuals who are responsible for the devastation of this city. We will single out every party and leader who sold out the people of Karachi for their interests," he added.
He said the people of Karachi suffered a lot due to the personal agendas of parties and their leaders. "The Jamaat would hold a 'referendum' across the city for the rights of Karachi and to make a verdict against all these forces."