Pakistan's coronavirus death toll crosses 14,000 mark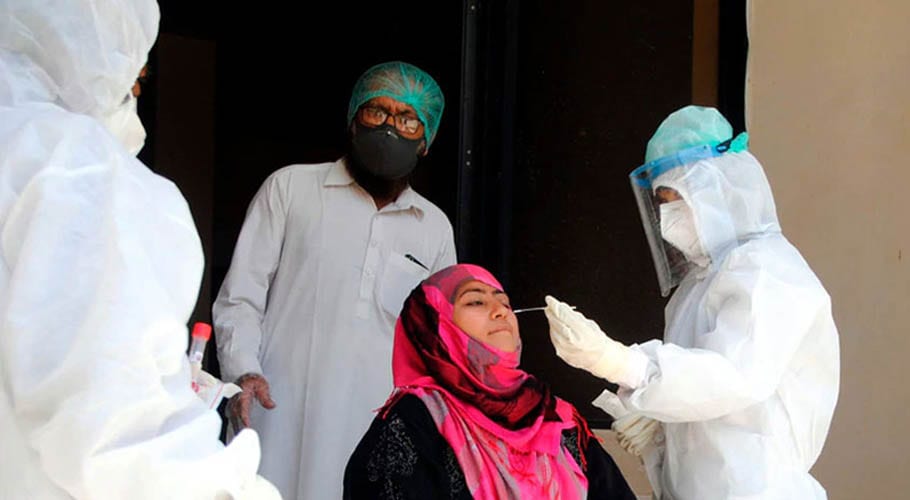 ISLAMABAD: The coronavirus positivity ratio shot on Thursday past 10% and the death toll crossed 14,000 as the third wave of the virus grips the country.
The statistics by the National Command and Operation Centre (NCOC) showed the novel coronavirus has claimed 63 more lives and 3,946 fresh infections were reported in the past day
It said that 38,858 tests were carries in the last 24 hours, out of which 3,946 returned positive, taking the national positivity ratio to 10.15%.
The total number of coronavirus cases in Pakistan reached 640,988 while the death toll has reached 14,028. The total number of active cases stand at 37,985 while 2,587 patients are in critical condition across the country.
Since the detection of the first COVID-19 case in the country, overall 9,934,373 tests have been conducted so far. Overall 588,975 have regained their health from the virus.
Sindh remains top on the list with 263,815 cases reported in the province so far, followed by Punjab with 205,314 COVID cases so far.
There have 81,787 cases reported in Khyber Pakhtunkhwa, 19,395 in Balochistan, 53,684 in Islamabad, 4,977 in Gilgit-Baltistan and 12,016 in Azad Jammu and Kashmir.
Earlier this week, the NCOC decided to tighten the restrictions given the deteriorating coronavirus situation across the country. The local administrations across the country have been directed to tighten the implementation of SOP's and crack down on violations that are taking place, he said
Meanwhile, Federal Education Minister Shafqat Mehmood announced that schools that are located in coronavirus hotspot areas will remain closed till April 11.
The decision was made during an important meeting of education and health ministers at the National Command and Operation Centre (NCOC) to decide on the closure of schools amid an alarming rise of coronavirus cases in the country.
The number of COVID-19 active cases has doubled in the last three weeks while the positivity ratio has remained above 8% in the last few days.  The minister said the government will hold a meeting with the Cambridge exams board to see whether examinations can be postponed or not. He said Board examinations of classes nine to 12 will be held as per the timetable.