Pakistani mountaineer summits Mount Kilimanjaro within 24 hours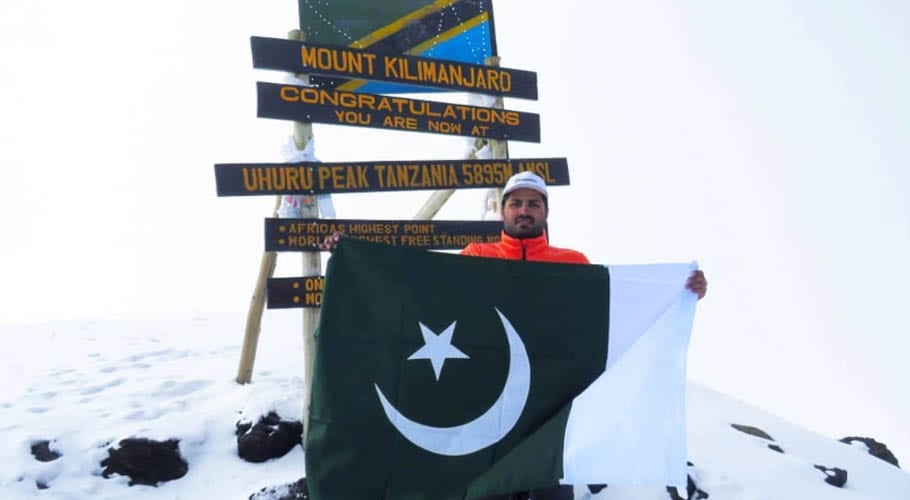 DAR ES SALAM: Pakistani mountaineer Asad Ali Memon became the first Pakistani and Asian to summit Mount Kilimanjaro, the highest peak in Africa, within 24 hours.
"Alhumdulillah, I became the only Asian & Pakistani to climb [Mount] Kilimanjaro in less than 24 hours," said the mountaineer in an Instagram post.
Asad Ali Memon, aged 23, reached the Mweka gate (finish point) at midnight between February 15-16 after reaching the Uhuru peak of Mt Kilimanjaro in Tanzania. Memon shared that it took him only 20 hours to summit and return to the gate of Africa's highest mountain.
According to the Pakistani Embassy in Tanzania, Memon had arrived at Mount Kilimanjaro last week where he acclimatized to the area.
The young climber started his push for the summit from the Umbwe Gate (start point) early Monday morning and opted for the most challenging route to the summit. The mission said that the Umbwe route that was taken by Memon is the "most challenging" to summit Mount Kilimanjaro as it has a steep ascent.
READ MORE: Rescue mission to use SAR technology in search for missing mountaineers
For Memon, Mount Kilimanjaro is the third mountain of his 'Seven Summit Challenge'. Last year, Asad had successfully climbed Aconcagua, the highest peak in the Americas and hoisted the Pakistani flag at its top, located in Argentina.
 "His mission to traverse the summit and return within one day (24 hours) has been achieved well within the time limit despite being a snowy and rainy weather during the day," the statement said.
Memon has added a new feather to his mountaineering achievements. The high commission said: "His solo summit of Uhuru peak will contribute to opening new vistas of collaboration in adventure sports and tourism between Pakistan and Tanzania.
View this post on Instagram