Pakistan reports 736 new coronavirus cases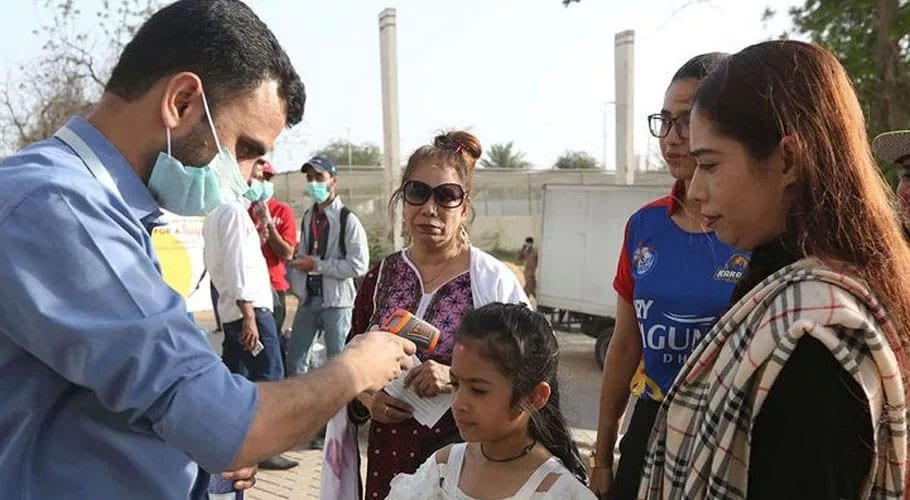 ISLAMABAD: At least 736 new cases of coronavirus have been reported in Pakistan and the total number of affected people has reached 326,216.
According to the National Command and Operations Center, 13 more deaths have been reported in the last 24 hours due to coronavirus and the total death toll has reached 6,715.
In Pakistan, 9,855 patients of coronavirus are being treated in various hospitals and 39,646 have recovered. The coronavirus has killed 2,329 people in Punjab and 2,591 in Sindh. The death toll in Khyber Pakhtunkhwa has risen to 1,267, 205 in Islamabad, 148 in Balochistan, 90 in Gilgit-Baltistan, and 85 in Azad Kashmir.
The number of coronavirus cases in Islamabad has reached 18,578. 102,253 cases have been reported in Punjab, 142,917 in Sindh, 38,886 in Khyber Pakhtunkhwa, 15,767 in Balochistan, 4,127 in Gilgit-Baltistan, and 3,688 in Azad Kashmir.
There are facilities for coronavirus patients in 735 hospitals in Pakistan and the number of ventilators for coronavirus patients in hospitals is 1,920. There are 132 testing laboratories operating in the country and trace, test, and quarantine strategies are working effectively in several cities.
Read more: Obama slams Trump's handling of coronavirus crisis
Moreover, special Assistant to the Prime Minister on National Health Services (NHS) Dr. Faisal Sultan has expressed concern that the gatherings are the main cause of the spread of coronavirus. He claimed that educational institutions were following standard operating procedures (SOP) to limit the spread of COVID-19.