Pakistan achieved success at UNHRC: FM Shah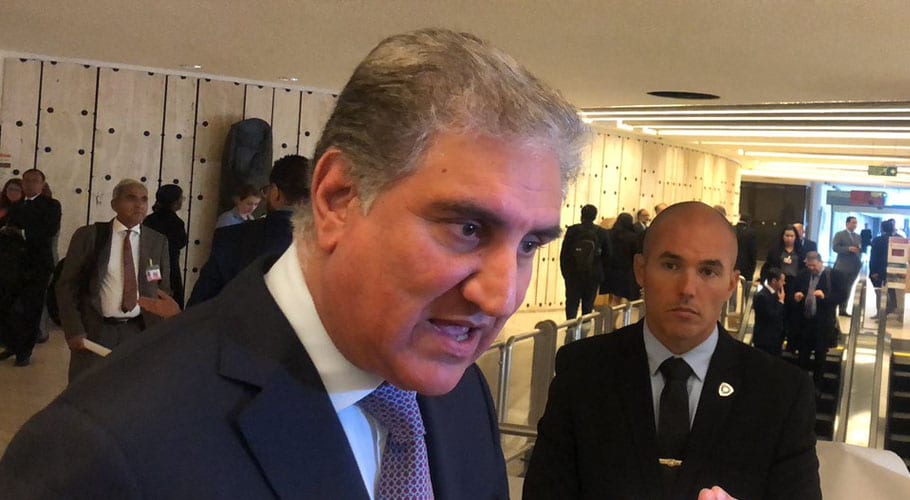 GENEVA: Foreign Minister Shah Mahmood Qureshi on Wednesday said that Pakistan has achieved the biggest success at the United Nations Human Rights Council (UNHRC).
Shah Mahmood Qureshi said that over 50 countries supported Pakistan's stance on Indian occupied Kashmir as Pakistan had achieved huge success at UNHRC.
A Joint Statement delivered at the UN Human Rights Council by Pakistan stated, "It shares the concern expressed by the High Commissioner for Human Rights Michelle Bachelet regarding the impact of recent actions of the Indian government on the human rights of people of occupied Kashmir.
The statement added that "UN Secretary-General Antonio Guterres, the Office of the High Commissioner for Human Rights (OHCHR), UN Special Procedures in their joint press release of 22 August 2019, have repeatedly expressed serious concerns about the unprecedented restrictions and on the continuous curfew imposed since 5th August."
The statement further added, "The Indian government had curbed fundamental freedoms, communications blackout and reports of widespread torture, extrajudicial killings, arbitrary arrests, molestation of women, and enforced disappearances."
Shah Mehmood Qureshi  on Twitter asked the UN Charter, Security Council resolutions, and human rights standards and international law, the international community to immediately take the following steps:
Pakistan today also announces the delivery of a historic joint statement on behalf of over 50 countries to the UN Human Rights Council. For this, we asked that the Council immediately take the following steps #HRC42 pic.twitter.com/538RNc5je4

— Shah Mahmood Qureshi (@SMQureshiPTI) September 10, 2019
The foreign minister posted a tweet about Indian government's unilateral action in occupied Kashmir, he said, "India's unilateral action altering the status of occupied Kashmir, recognized as disputed territory by UN Security Council, is illegal under Intl law."
He added, "Naked foreign occupation contravening Geneva Convention. Assertion these actions are 'internal affair' patently false. #HRC42"
Pakistan has expressed its gratitude to the countries which became part of this Joint Statement in support of the people of Kashmir.