Netizens call to boycott Zara after anti-Palestine remarks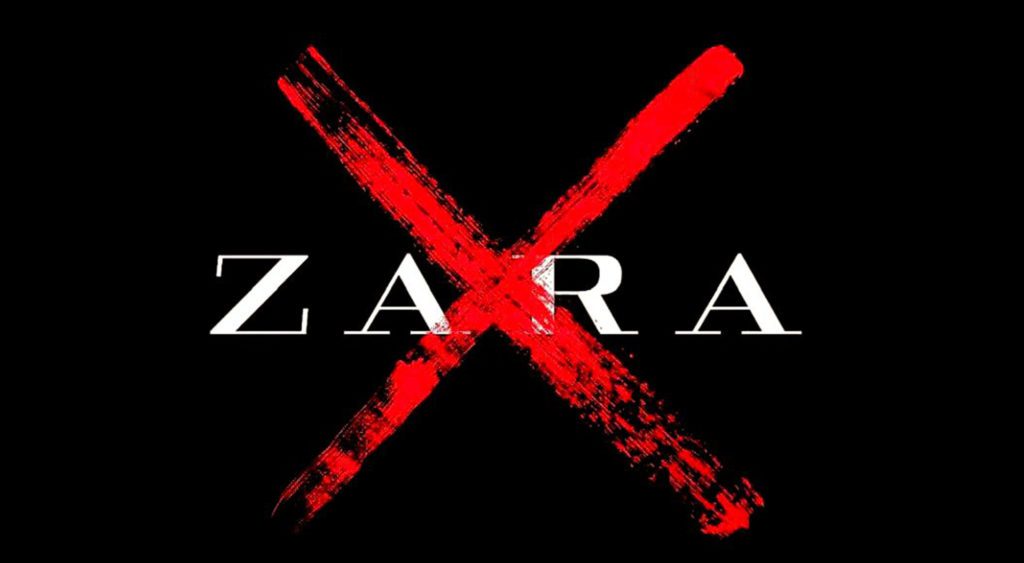 An anti-Palestine statement by Zara's head designer Vanessa Perilman during a conversation with a male Palestinian model has caused outrage on social media.
Since then, people all around the world are aiming to boycott the retail giant Zara brand It all started when Vanessa Perilman, the head designer for Zara's women's department, made a hate comment against a Palestinian model who later shared Perilman's message on Instagram."
Perilman allegedly wrote to Qaher Harhash, a Palestinian model from occupied east Jerusalem. "Israelis don't teach children to hate, nor throw stones at soldiers as your people do," Perilman went on, as per the screenshot revealed by Harhash. "The people in my industry know the truth about Israel and Palestine and I will never stop defending Israel. People like you just come and go in the end. Maybe if your people were educated then they won't go and blow-up schools and hospitals that Israel helped to pay for in Gaza," wrote Perilman.
Read more: Anti-Palestine statement by Zara's head designer causes uproar
However, Perilman, later deleted her Instagram account and other social media pages after her post went viral. On the other hand, the Palestinian model revealed that Vanessa Perilman has not been fired. The Jerusalem-born model also shared the brand had asked him to share an apology written by Perilman, which he declined to do. "If Zara wants to make a statement with me, they also need to address Islamophobia," Harhash maintained. "When certain fashion designers said anti-Semitic things, they were fired from their jobs," he added.
Since the controversy, social media users are demanding to boycott Zara. Let's have a look:
Well, time to #BoycottZara. We stand with Palestine 🇵🇸 #ZaraMustApologize pic.twitter.com/zzS3sniSLc

— Ubaid Ullah (@itsubaidullah) June 14, 2021
Fashion giant Zara is facing calls fora boycot after a head designer sent a hateful message to a model who voiced support for Plstn#QaherHarhash #Zara #VanessaPerilman #Palestine #Israel #BoycottZara #FreePalestine #IStandWithPalestine #acceptsunnahfashion #india #londonattack pic.twitter.com/7zIRmFX9ZA

— HasanAdia (@hasan_adia) June 14, 2021
The brands and the people in it tells that how much stronger the zionist mafia is…Reply: go and watch the education system of Israel.Hate against all other religions started at their kinder garten they are being taught to bld 3rd temple by slaughtering incny Plstns #boycottzara pic.twitter.com/ATgOQi5vA4

— Shoaib (@shoaibshaukat55) June 14, 2021
#boycottzara. The fact that they havent fired #vanessaperilman is absurd! When john galliano made anti semitic remarks, dior was quick to act. @ZARA is protecting this woman?? https://t.co/pxCKHeq1vu

— dhliano1r (@dhliano1r) June 14, 2021
#boycottZara until they apologise#zaramustapologize OFFICIALLY 😊✌️🇵🇸

— Safa' (@safa2tak) June 14, 2021
No more Zara for me. This disgusting racism must have consequences.#boycottzara https://t.co/8y3H2NdRSR

— Nour Odeh 🇵🇸 #NojusticeNopeace (@nour_odeh) June 14, 2021
I've seen clips from Israeli school in which their students are programmed hatred against Palestinians. Anti-apartheid against Palestinian narratives isn't appreciated. Time to boycott #boycottzara apology isn't enough when you jump into a worldly controversial political issue. pic.twitter.com/1FydDc8fsL

— Bilal Mukhtar (@BilalMukhtar123) June 14, 2021
I remember what I was looking for. EVERY ONE – which is just 14 followers who idk. Kindly retweet #boycottzara because Vanessa Perilmen, head designer of Zara made a racist comment towards one of the model for supporting Palestine ⬇️⬇️ pic.twitter.com/KFlsnrnIYu

— Anis (@Anis_Miwa) June 14, 2021
For the sake of the children of Palestine and to stand up to those who justify the brutal occupation of killing them, please participate in the Zara boycott campaign.#BoycottZara pic.twitter.com/DQbPhpWBhC

— أ .إنعام (@ibinam1) June 14, 2021
❌ Zara has been condemned for its stance in ongoing human rights abuses committed against Palestinians

Social media users are making calls to boycott Zara under the hashtag #BoycottZara

🤔 But how did it all start?

~ a threadhttps://t.co/GMq07uv46N

— Doha News (@dohanews) June 14, 2021