NA secretariat shut till March 16 amid rising coronavirus cases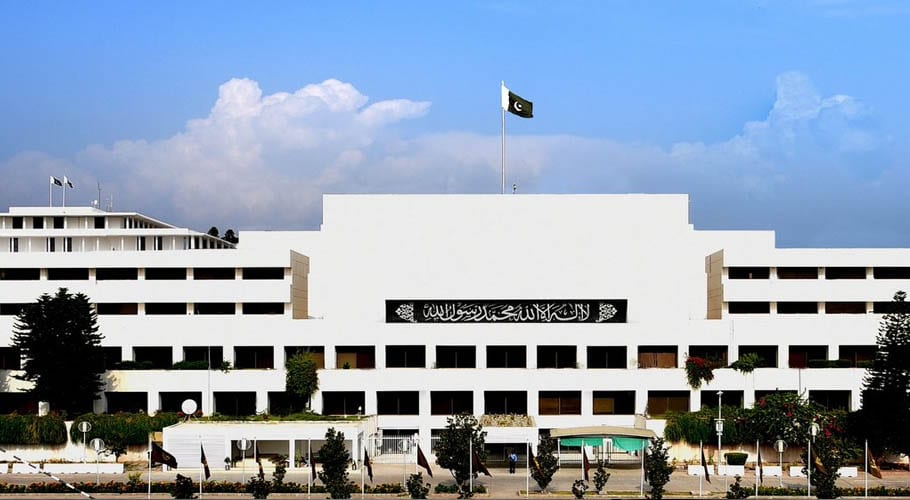 ISLAMABAD: The National Assembly (NA) secretariat has been closed for two days till March 16 amid rising number of coronavirus cases.
According to a declaration issued by the NA Secretariat, all the offices will remain closed until March 16 during which fumigation will be carried out to contain the spread of the virus.
During the closure period, IR department and R&D branch will remain operational. A minimum number of employees will join the offices after they resume from March 17.
The staff of the NA Secretariat has been directed to ensure their availability on the phone. Wearing masks in the secretariat has been declared mandatory while shaking hands, hugging is prohibited. The employees have been directed to strictly follow the standard operating procedures (SOPs) designed to counter the spread of the deadly virus.
Meanwhile, the Islamabad administration has made the wearing of masks in public mandatory amid a worsening coronavirus situation in the country.
Deputy Commissioner Islamabad, Hamza Shafqat, issued a notification stated that Section 144 of the Criminal Procedure Code (CrPC) has been enforced for the implementation of the rule.
The district administration has warned that legal action will be taken against those found not wearing a mask, adding that the rule will remain in place for the next two months.
Additionally, five sectors of Islamabad have been declared coronavirus "hotspots" and will be sealed. Sectors G-6/2, Sector G-9/1, G-10/4 will be sealed as will Sectors I-8/3 and I/8-4.
Separately, Rawalpindi imposed new restrictions, including on markets, which will now be required to shut down by 6PM starting Monday.
Four localities of Rawalpindi have also been declared as "hotpots" namely Street No. 4, Sadiqabad; Sreet No . 27, Allama Iqbal Colony; CB 1231 Near Qasar-e-Abu Talib, Azizabad; and Dhoke Parachi, Sadiqabad. A complete lockdown will be imposed in these areas for two weeks starting March 15.