NA Speaker appreciates Malaysia's support for raising Kashmir issue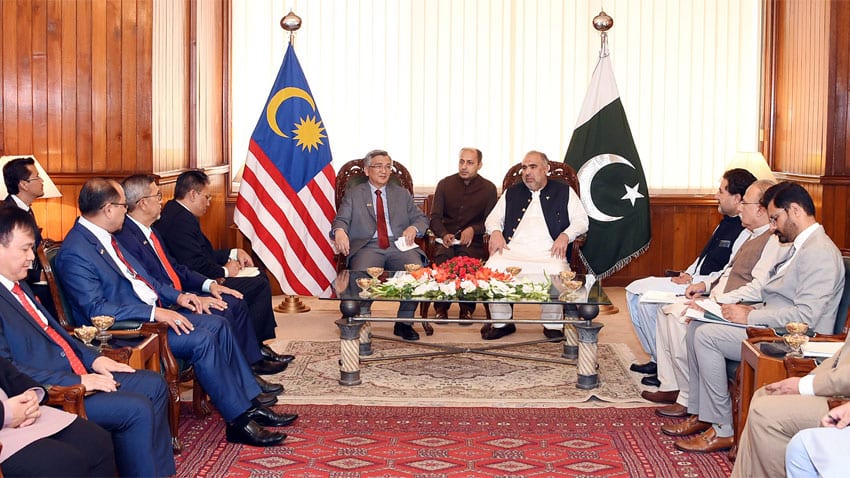 ISLAMABAD: Speaker National Assembly Asad Qaiser welcomed Malaysian Prime Minister Mahathir Mohamed for effectively raising the Kashmir dispute at the recently-concluded United Nations General Assembly session.
The Speaker, while speaking to his Malaysian counterpart Mohamad Ariff Bin Mohammad Yusuf who along with a delegation called on him, said occupied that Kashmir is the unfinished agenda of the partition of the subcontinent and leaving the Kashmir dispute unresolved has brought the peace of the region at stake.
Asad Qaiser said that fifty-seven days of lockdown in Indian-Occupied Kashmir has converted the valley into a virtual jail and the situation in Kashmir valley is on the verge of a human catastrophe. 
The speaker said continued denial of the due right to Kashmiri people for decades and recent unilateral action by India has exposed its democratic outlook. He asked for Malaysia's support in the resolution of Kashmir issue according to the aspirations of the people of Kashmir and UN resolutions.
The Malaysian Speaker agreed with the Speaker Asad Qaiser terming Kashmir issue a flashpoint and an impediment in bringing peace in the region. He said that the issue must be resolved in accordance with the UN Security Council Resolutions and international commitments. He said Malaysia and Pakistan share multiple commonalities which made them closer to each other.  
Malaysian delegation visits NA
Earlier, both sides discussed matters of bilateral interest and ways and means to further strengthen relations between the two parliaments. They agreed for enhancing cooperation in legislation, financial oversight and parliamentary staff exchange for sharing each other's experiences.
The parliamentary delegation witnessed proceedings of the National Assembly on Tuesday. Speaker Asad Qaisar welcomed them and said Pakistan and Malaysia enjoy historic relations.
He pointed out the Malaysian Prime Minister Mahathir Mohamed effectively raised the Kashmir dispute at the recently concluded UN General Assembly session.
He said the visit of the Malaysian parliamentary delegation to Pakistan will open new vistas of cooperation and strengthen mutual ties between the two countries.
Minister for Parliamentary Affairs Azam Swati said the people of Pakistan have great love and affection for the Malaysian people. He expressed confidence that relations between the two countries will gain further strength in the days ahead.
PML-N leader Ahsan Iqbal and PPP leader Raja Parvez Ashraf in their remarks said the Malaysian people are very close to our hearts. They said both brotherly countries share a common history and they are grateful to Malaysia for always extending support to Pakistan.