Music-lovers observe birth anniversary of Nusrat Fateh Ali Khan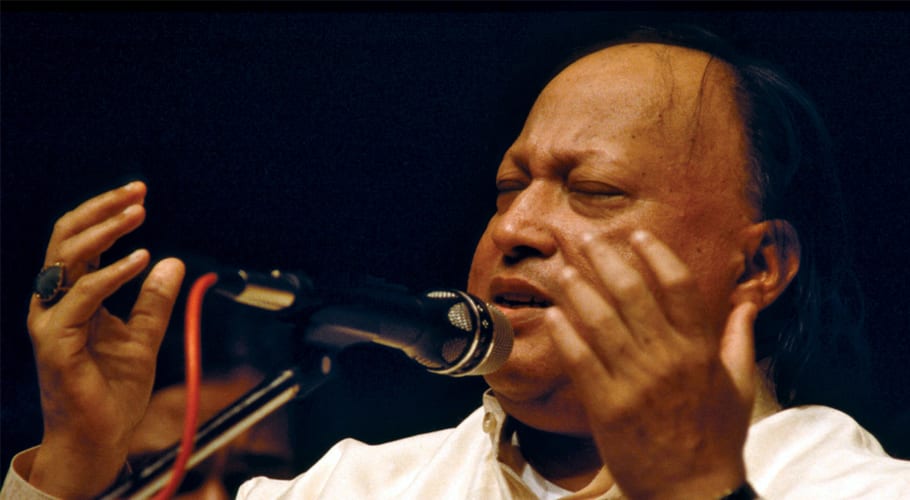 KARACHI: Music-lovers including traditional Qawwali lovers are celebrating the birth anniversary of legendary singer Nusrat Fateh Ali Khan.
Nusrat Fateh Ali Khan was born on 13th October 1948, in Faisalabad. The legendary singer was not only famous in Pakistan but also in the rest of the world. He sang mostly in the Islamic devotional style known as Qawwali. He passed away at the age of 48, had become one of the world's most outstanding vocalists. 
Nusrat Fateh Ali Khan was a great Pakistani qawwal, musician, and singer. He was born in a family of qawwal in Faisalabad. His father Fateh Ali Khan and uncle Mubarak Ali Khan were famous qawwals of their time.
Nusrat Fateh Ali Khan, the legend of Qawwali, spent his entire life learning and teaching the art of Qawwali. He spread the message of Sufis to every corner of the world and for this he gained immense fame.
Nusrat Fateh's songs are still alive among his fans and also youngsters, and have defined the art-form of Qawwali for the generations to come. Most of his fans belong to Pakistan and India, where he sang several songs for movies and music albums.
Nusrat Fateh Ali Khan also introduced Sufi singing in a new way which made his songs heard not only in Pakistan but also in countries like the USA and Europe.
Ustad Nusrat Fateh Ali Khan was also awarded many honors. In 1987, he was awarded the Pride of Performance (Medal of Excellence) by the government and the Nigar Award for his services to the world of Pakistani film industry and music. He was also nominated for a UNESCO Music Prize. Ustad Nusrat Fateh Ali Khan's Qawwali 'Dum Mast Qalandar Ali Ali' has gained worldwide popularity.