London meeting: PML-N decides to let assemblies complete tenure: sources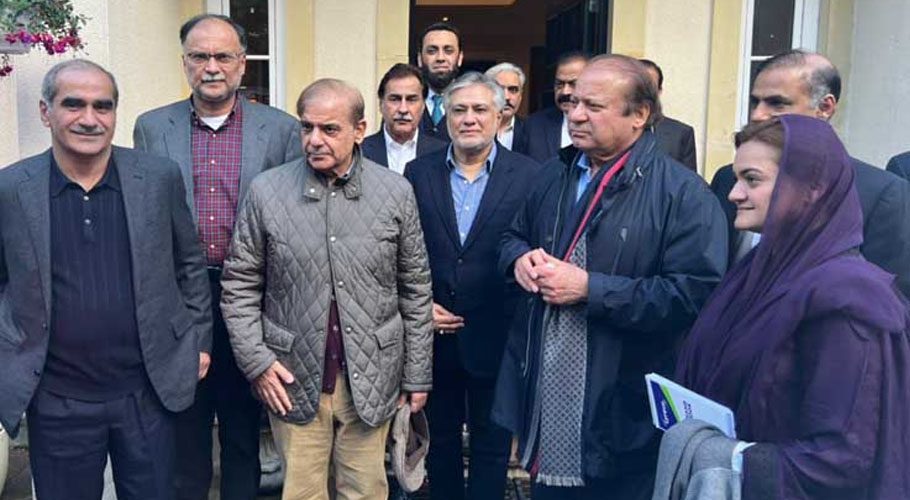 LONDON: Pakistan Muslim League-Nawaz's (PML-N) top leadership on Friday decided in the London meeting not to hold general elections in the country before the completion of the tenure of the existing assemblies, a Pakistani private TV channel disclosed while quoting reliable sources.   
Sources privy to the meeting presided over by former prime minister Nawaz Sharif, said that important decisions regarding Pakistan's politics have been taken in the PML-N high-ups' sitting.
"It has been decided not to accept any pressure for holding early elections from anyone including PTI chairman and former prime minister Imran Khan", the sources said.
During the meeting, Nawaz Sharif directed the PML-N government not to arrest Imran Khan and other PTI leaders. It was decided that former Finance Minister Ishaq Dar would guide Finance Minister Miftah Ismail. Miftah Ismail was given the task of getting a good deal from the IMF. Shahid Khaqan Abbasi has been summoned to London for consultation on economic issues, the TV reported.
After the meeting, Defense Minister Khawaja Asif and Minister for Railways and Aviation Saad Rafique spoke to the media. Khawaja Asif said that PML-N had taken important decisions regarding the country's economy and would announce it taking the government allies on board
When a journalist asked him, if the elections will be held this year? Khawaja Asif replied that "no astrologer can tell when the elections will be held, we can be pressured only by the people of Pakistan and not by anyone else, only our voters can put pressure on us''.
The defense minister said that "the people are independent, we and the allies will put their case before the people, in 48 hours we will take the people of Pakistan into confidence, we will put before the allies whatever consultation we have, and we will not decide anything alone".
Railway Minister Saad Rafique said: "You will see soon PML-N will play on the front foot, we will not allow anyone to spread chaos and hatred in the country, Nawaz Sharif will soon be in Pakistan".