LHC orders Govt to produce pre-2002 Toshakhana record today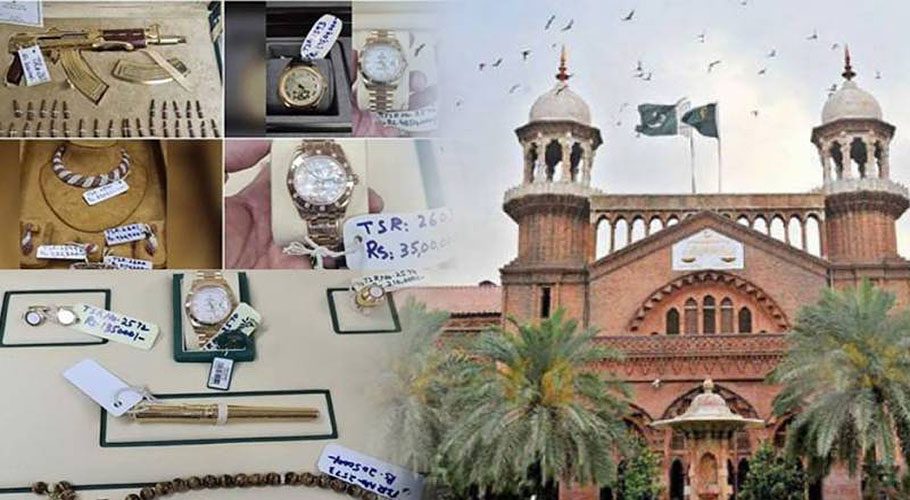 LAHORE: The Lahore High Court (LHC) has rejected the de-classified list of Toshakhana gifts from 2002 to March 2023, saying it incomplete, aand ordered the federal government to produce record before the year 2002 today.
Also read: LHC summons details of gifts sold from Toshakhana since 1947
Hearing the case today, Justice Asif Hafeez ordered to produce the pre-2002 Toshakhana record on "as is where is" basis, passing remarks that the court would examine as to who gifted these items, why these items are gifted at the first place, and if there was any intention to get any favor in return of these gifts.

During the course of proceedings today, lawyer representing the petitioner expressed apprehensions that the Toshakhana record available on government website could be amended or manipulated, after which the LHC Judge also ordered to submit attested documents of post-2002 Toshakhana record, which was already uploaded on government's website.
Also read: Govt submits Toshakhana gifts' details to LHC
 The federal government on Sunday declassified a 466-pages document containing names, designations of personalities which retained gifts from Toshakhana.

Prominent personalities who benefited from the Toshakhana gifts included President Dr Arif Alvi, Prime Minister Shehbaz Sharif, former prime minister Imran Khan, ex-prime minister Nawaz Sharif, ex-president Asif Ali Zardari, Maryam Nawaz, mother of Marriyium Aurengzeb, late military dictator Pervez Musharraf, former premier Shaukat Aziz, ex-PM Yousuf Raza Gilani, ex-PM Shahid Khaqan Abbasi, ex-PM Raja Pervaiz Ashraf, ex-PM Zafarullah Khan Jamali, Senate Chairman Sadiq Sanjrani, Finance Minister Ishaq Dar, Foreign Minister Bilawal Bhutto-Zardari, Sheikh Rashid Ahmed, Khursheed Kasuri, Abdul Hafeez Shaikh, Jehangir Tarin, Shah Mehmood Qureshi, and Dr Attaur Rehman among others.
Also read: IHC issues notice to Cabinet Division, seeks details of Toshakhana since 1947
The LHC ordered federal government to submit details of pre-2002 Toshakhana record latest by 11:30am today, after which the hearing was adjourned.