Let people watch the movie, your reviews can wait: Fahad Mustafa tells bloggers
Pakistani superstar Fahad Mustafa has humbly requested bloggers to avoid giving their reviews on newly released movies as it can damage the film big time.
The Actor In Law actor took to Instagram and shared his thought that Pakistani bloggers need to let people go and watch the movie first. According to him, bloggers' reviews can wait. 
 

 

View this post on Instagram

 
"To all the bloggers: With all due respect, let people go and watch the movie first, your reviews can wait. You coming up with reviews (be it right or wrong) can damage the film big time and it won't help the industry in any way. This industry needs support… Let people decide if the film is worth watching or not. Thank you," his Instagram post stated.
Soon after Mustafa's post went viral,  Amma TV Aur Main host Momin Ali Munshi came forward and shared his take on the film review culture in Pakistan. He while sharing how he feels about Fahad Mustafa's stance, Munshi on other hand, differed Mustafa's idea.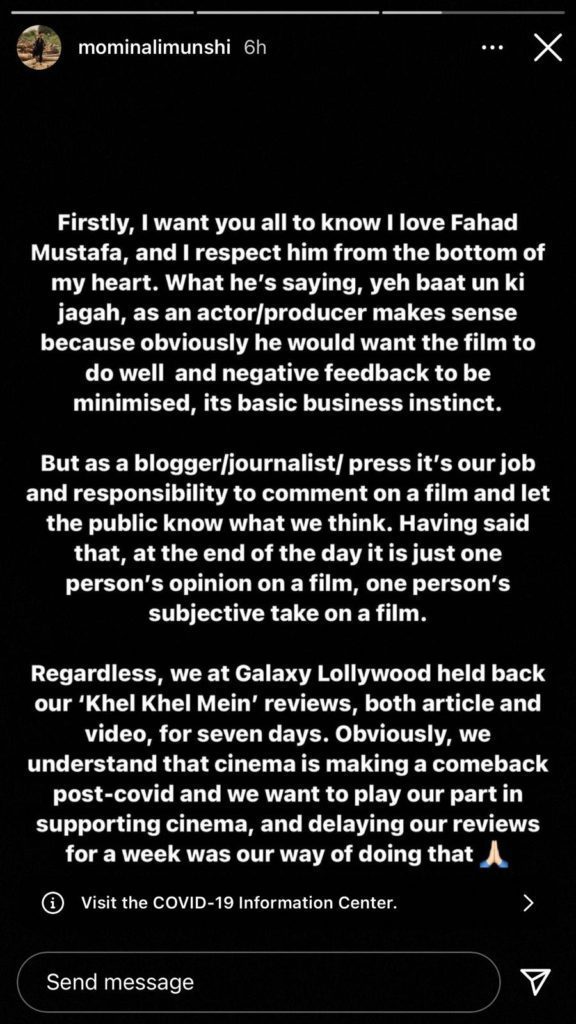 He post a story related to it which stated: "Firstly I want you all to know I love Fahad Mustafa, and I respect him from the bottom of my heart. What's he's saying, yeh baat un ki jagah, as an actor/ producer makes sense because obviously he would want the film to do well and negative feedback to be minimized, its basic business instinct."
Read more: HUM TV chopped off our winning moment by not inviting us, rants 'Amma TV Aur Main' host
He continued, "But as a blogger, it's our job and responsibility to comment on a film and let the public know what we think. Having said that, at the end of the day it is just one person's opinion on a film, one person's subjective on a firm."
While mentioning about Sajal and Bilal starter movie, he said that he held back 'Khel Khel Mein' reviews, both article and video, for seven days. "Obviously, we understand that cinema is making a comeback post-covid and we want to play our part in supporting cinema, and delaying our reviews for a week was our way of doing that," Munshi shared.