KSE 100 index sheds 2200 points over new policy rate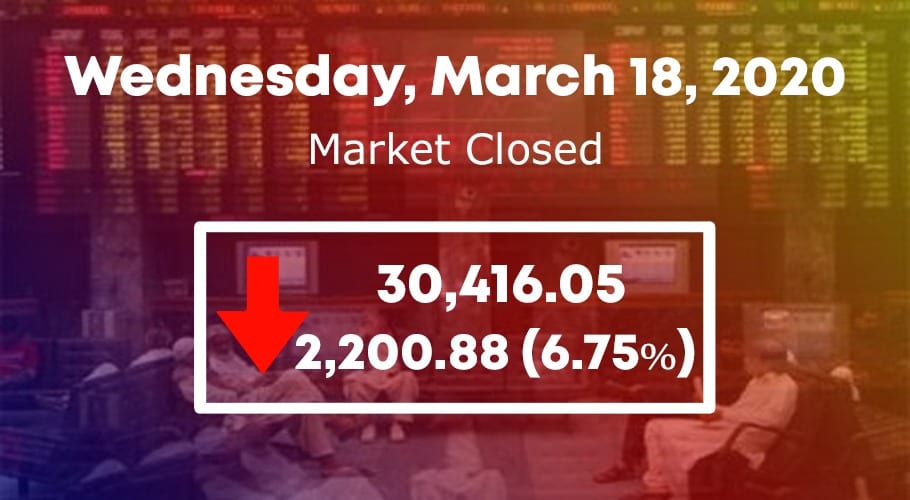 KARACHI: The downward trend continued at the Pakistan Stock Exchange (PSX) on Wednesday which shed over 2200 points due to the adverse effects of the coronavirus pandemic.
The benchmark KSE 100 index dropped by 2200.88 points and closed at 30,416.05 points. This marks a staggering decline of 6.75 percent in intra-day trading. The indices dropped below the 31,000 points as investors stayed away from the stock market. The total volume of shares was 133.602 million valued at Rs4.88 billion.
Trading at the stock market was halted less than an hour into the morning session as the lower bench KSE 30 index dropped by over five percent. This is the second time trading has been halted in the past weeks and the fifth time since March 9. According to PSX rules, trading is suspended for at least 45 minutes if the lower bench drops by more than five percent or goes without direction for five minutes.
The KSE 30 index eventually decline by a whopping 1071.95 points and closed at 13,249.13 points. This marks a decline of 7.49 percent. The total volume of shares was 58.324 million. There was a complete sea of red as the share prices declined in most sectors. After an hour after the stock market opened, trading was suspended at 10:17 AM.
The stock market also reacted to the decision of the State Bank of Pakistan (SBP) to reduce the interest rate by 75 basis points to 12.5 percent. The central bank announced the new monetary policy outlining various economic and safety measures over the coronavirus epidemic.
The decision was below market expectations as investors were expecting a decline of at least two percent. The policy rate at 13.25 percent has been one the highest ever which has investors away from borrowing money from commercial banks.
The KSE 100 index has fallen at staggering 26 percent during the ongoing year ever since it reached its peak on January 13, 2020. At current levels, the index is at stage six months ago as it had closed at 30,955 points.