KSE 100 index gains 151 points in flat trading session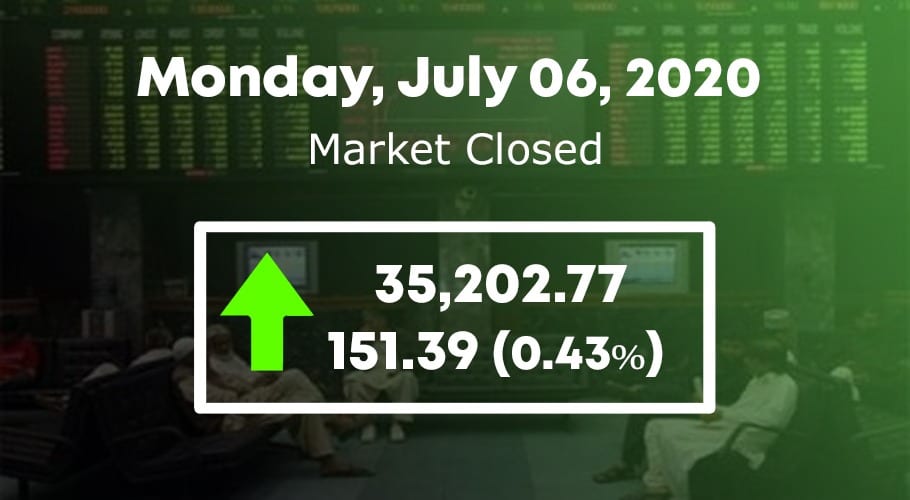 KARACHI: The Pakistan Stock Exchange (PSX) observed a flat trading session on Monday as the indices started the day's trading over 35,000 points level.
The KSE 100 index gained 151.39 points (0.43%) and closed at 35,202.77 points. The indices started at 35,051.38 points and finished a flat trading session before trading was suspended. The total volume of shares traded were 229.097 million valued at Rs8.799 billion.
The lower KSE 30 index also gained 44.14 points (0.29%) and closed at 15,246.96 points. The total volume of scripts traded were 164.488 million. The KMI 30 index increased by 146.10 and closed at 56,605.42, while the All-Share index gained 162.77 points and closed at 25,249.79 points.
The top active stocks were TRG Pakistan (TRG 2.92%), Pak Elektron (PAEL 7.32%) and Lotte Chemical Pakistan (LOTCHEM 8.85%). The firms traded were 37.708 million, 37.658 million and 30.842 million shares respectively.
This was followed by Maple Leaf Cement Factory (MLCF 2.18%), Jehangir Siddiqui Co. Ltd (JSCL 7.03%) and Agritech (7.03%).
The top contributor to the KSE 100 index was the oil and gas exploration sector (55.28 points) while the refinery sector saw the largest change (5.69%) in market capitalization. The total volume of shares was 331.84 million.