'Its inappropriate because they can't control themselves' says Ushna Shah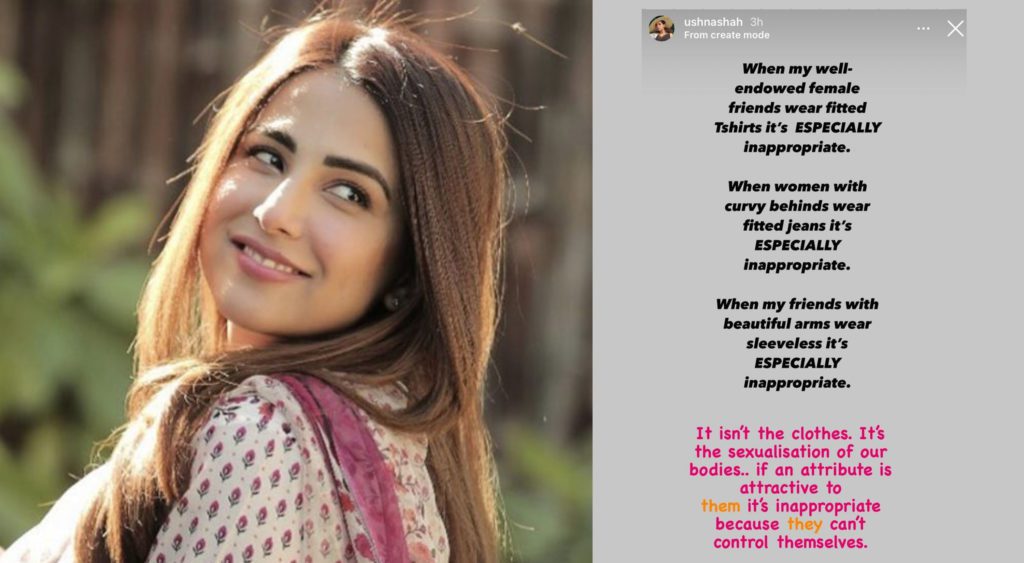 Actress Ushna Shah, who raises awareness about prevalent problems in Pakistani society has highlighted body shaming and claimed that it is never the clothes that sexualises bodies but an attribute to them is.
The actress took to Instagram story and shared how her friends nomatter what body size they are of faces wear jeans or clothes, it becomes inappropriate for them.
"When my well-endowed female friends wear fitted T-shirts it's especially inappropriate, Usha Shah notified adding, "When women with curvy behinds wear fitted jeans it's especially inappropriate."
Read more: Ushna Shah becomes goodwill ambassador for WWF-Pakistan
"When my friends with beautiful arms wear sleeveless it's especially inappropriate," she said by adding, "It is not the clothes. It the sexualisation of our bodies.. if an attribute to them it's inappropriate because they can't control themselves."

Earlier, Shah had responded in shock to Hollywood actor Mark Ruffalo's statement over the Israel-Palestine issue as he backtracked on his statements. The 53-year-old turned to Twitter and shared that after reflection on his opinion now he had changed his stance. Previously, he was lauded for his stand against Israeli violence towards Palestinians.
Claiming that his opinions were uninformed, he wrote, "I have reflected and wanted to apologise for posts during the recent Israel/Hamas fighting that suggested Israel is committing 'genocide'." Ruffalo added, "It's not accurate, it's inflammatory, disrespectful, and is being used to justify antisemitism here and abroad. Now is the time to avoid hyperbole."
Ushna Shah reacted and wrote, "And then there were none," wrote the actress on her Instagram story.