Hungary to develop more economic linkage with Pakistan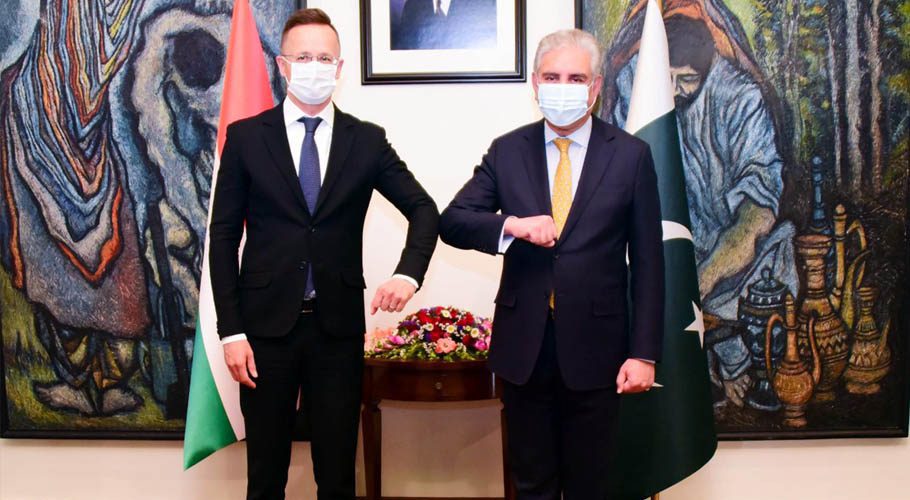 ISLAMABAD: Hungary's Foreign and Trade Minister Peter Szijjarto has voiced his country's strong desire to upgrade the economic partnership with Pakistan.
Hungary's minister expressed his view while addressing Pakistan-Hungary Economic Diplomacy event in Islamabad today (Friday) along with the Foreign Minister of Pakistan Shah Mehmood Qureshi.
Hungary agreed to establish a credit line of $84 million for business-to-business cooperation and provide another $50 million for tied aid program.
"We have established a credit line at Hungarian EXIM bank to the extent of $84 million which is exclusively to serve the enhancement of B2B cooperation between Pakistani and Hungarian companies," Hungary's minister said in a joint press stakeout with Foreign Minister Shah Mahmood Qureshi.
It added, "We are ready to provide $50 million for a tied aid credit program to be launched in Pakistan in fields of agriculture, water, industry and food processing."
The Hungarian Foreign Minister said his country attaches special importance to this region because of cultural and historical similarities as well as the security reasons. He said Hungary really values and respects the contributions that Pakistan has been making to ensure security and stability of the region.
Péter Szijjártó told media that by visiting Pakistan after hiatus of 15 years, he had broken the unpleasant situation. "The Hungarian government had understood the security and economic significance of the region," he added.
Reiterating his country's commitment against terrorism and extremist ideologies, he said both the phenomenon were the root causes massive illegal migration to Europe.
Referring to the Afghan situation, he said if the two ideologies were not stopped there, those could also pose threats to Europe. "Therefore, the European Union should support Pakistan in its anti-terror efforts particularly after the pullout of NATO troops from Afghanistan," he added.