Goods traffic suspended as transporters strike enters eighth day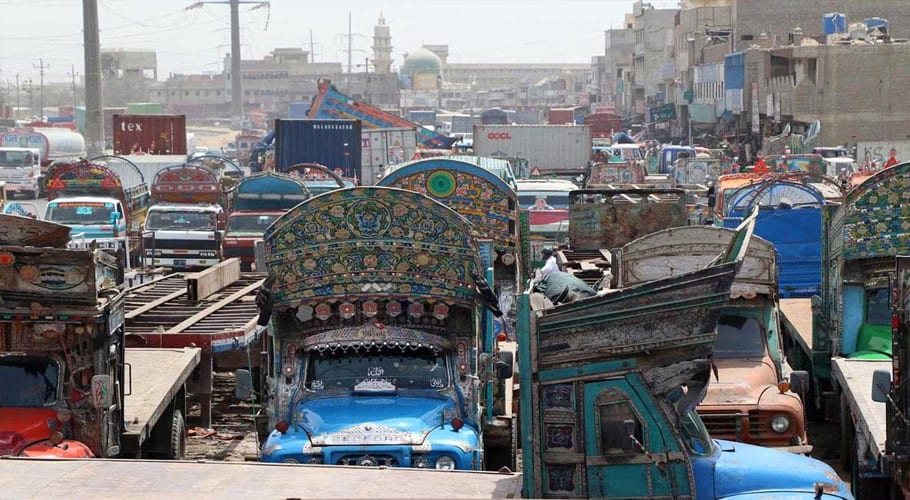 KARACHI: Supplies of freight remained suspended throughout the country on Monday as the strike by freight transporters continued on the eighth consecutive day and the

government remains silent to the billions of rupees worth of loss to the economy in the country.
According to media reports, two ports and four container terminals remain fully shut down, more than 45000 containers remain stuck in the Karachi and Bin Qasim ports, KYCT, PNCT, KICT and China Port, importers complain that the strike has cost them more than $2.5 million in port charges, causes damage and rental costs.
READ MORE: Shabbar Zaidi to resume FBR duties on January 20
Arshad Jamal, Chairman of the Customs Agent Association, said the strike eventually cost a loss of more than $10 million, while oil exports are not shipped as factories are unable to safely transport their goods, which has impacted the reputation of Pakistan in international markets.
Fruit and vegetable exporters said that Gilgit Baltistan and Punjab's fresh food, such as potatoes, onions and oranges, are now jammed in containers across the country's multiple motorways.
READ ALSO: Negotiations underway with protesting transporters: Minister
On January 7, Sindh Governor Imran Ismail met with transporter representatives to bring them round to call off their strike, cargo supplies across the country came to a halt on Monday as freight transporters suspended their operations in protest at heavy fines.