Flight schedule affected due to dense fog at Lahore airport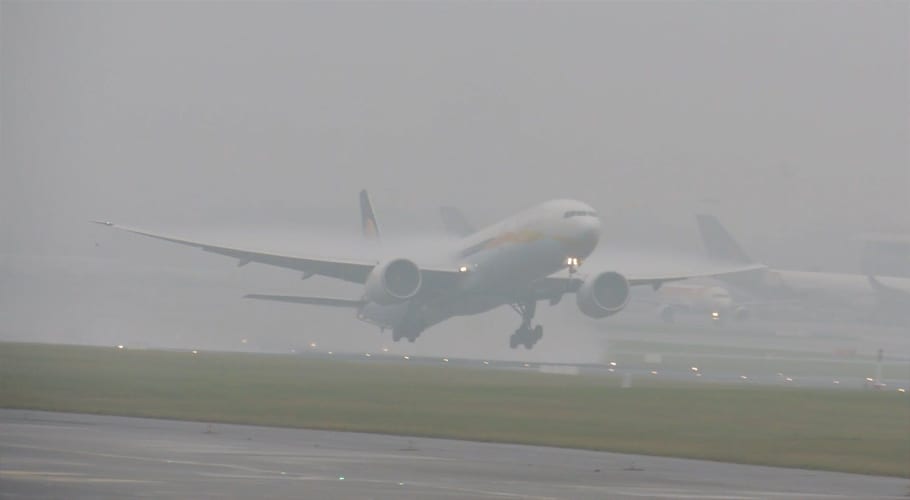 LAHORE: The flight schedule of Pakistan International Airlines (PIA) on Tuesday remained affected at Allama Iqbal International Airport due to heavy fog.
The flight schedule to land at the Lahore airport from Dammam was diverted to the Islamabad airport due to heavy fog in Lahore, PIA spokesman said.
READ MORE: Motorway sections closed in Punjab due to dense fog
According to the details, the flight schedule was badly affected due to heavy fog and the domestic flights schedule was affected due to low visibility.
Bound flight PK- 8385 from Lahore to Islamabad and bound flight PK-316 and PK-313 from Lahore to Karachi were also cancelled by authorities due to dense fog.
The PIA spokesman further said, that flight number QR 628 from Doha to lahore was diverted to Islamabad airport due to dense fog and poor visibility. 
READ ALSO: Light rainfall expected in Karachi on Wednesday night
Furthermore, few other flights were also cancelled including flight number PK- 650 from Islamabad to Lahore was stopped from taking off.
While flight number SV 735 from Jeddah to Lahore also cancelled due to visibility issues and dense fog in Lahore.