Federal cabinet discusses economic, political situation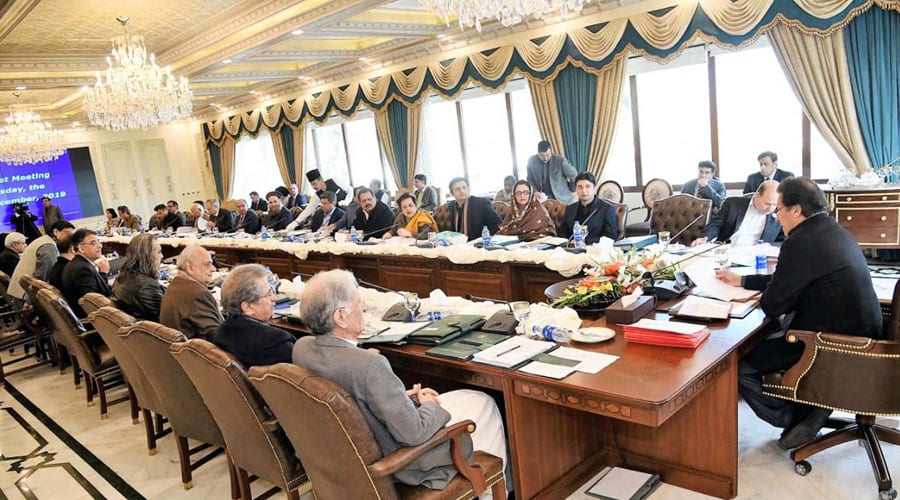 ISLAMABAD: Prime Minister Imran Khan will launch a comprehensive programme worth six billion rupees to provide essential edible items on subsidised rates to deserving people.
Briefing media about decisions taken in the cabinet meeting, Special Assistant to Prime Minister on Information and Broadcasting, Dr Firdous Ashiq Awan said the programme will be launched next week, while financial assistance cards will be launched in the last week of January
She said said edible items like flour, sugar, ghee, and pulses will be provided on subsidised rates through Utility Stores of Pakistan across the country.
Awan said that health cards will be provided to deserving people through newly-compiled database and those, who are not registered with the data bank will be provided assistance through Langar houses. She said network of Langar houses and shelter homes will be expanded to more parts of the country.
Regarding precarious human rights situation in Indian-occupied Kashmir, Awan said the federal cabinet passed a unanimous resolution condemning state oppression and brutalities on the people of Kashmir by Indian security forces for past five months.
It urged the international community to take notice of the gross human rights violations in held Kashmir. The cabinet also condemned Modi government's tactics against minorities through discriminatory laws like Citizenship Amendment Act and National Register of Citizens.
The cabinet was briefed that trade deficit has decreased by 40%, current account deficit reduced by 73%, foreign exchange reserves rose by 14%, and tax collection grew by 17% in one year. Besides, there were a substantial decline in imports and a rise in exports as well while foreign investment has reached to $20.06 billion dollars.
The special assistant said that Prime Minister Imran Khan has declared 2020 a year of economic stability and several initiatives will be taken in the beginning of the new year for the benefit of common people.
The meeting took up the agenda related to development projects and other issues of importance. It also discussed overall economic and political situation in the country.