Fake govt is not destined to serve people: Maryam Nawaz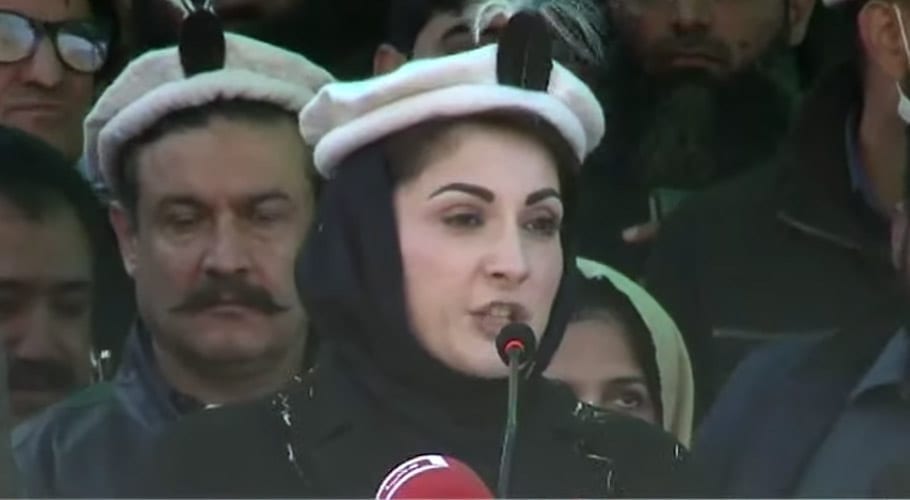 GILGIT: Pakistan Muslim League-Nawaz (PML-N) Vice President Maryam Nawaz expressed confidence and has said that the large gathering of people suggests the "lion is coming to Gilgit-Baltistan". 
While addressing an election rally n Gupis, Maryam Nawaz called the incumbent government 'fake' said that they have never considered it as a state because it is not in their destiny to serve the people. Fake government is not destined to serve the people, she added.
Maryam Nawaz said that the Gilgit-Chitral road was included in the CPEC, while it was the PML-N government that eradicated terrorism and tourists came to the region in the last five years due to the peaceful environment.
Read more: PM Imran asking for NRO, will not get it: Maryam Nawaz

She said that former prime minister Nawaz Sharif had built roads and hospitals in Gilgit-Baltistan. Similarly, no one has done what Nawaz Sharif did on Diamer Bhasha Dam to date. She asserted that they will now raise our voice in the parliament for compensation of the dam victims.
Maryam Nawaz said that despite the worst revenge, Nawaz Sharif is not bent, and if he is standing today, he is standing only for the people. Opponents of Nawaz Sharif are depraved and have gone far beyond jealousy and revenge against the former premier.  
She compared Prime Minister Imran Khan to the novel coronavirus, stating it was like a disease that will be eradicated when it will be thrown out. "The disease called COVID-19 came to the world recently, but it had already spread in Pakistan in 2018," she said.
She said that "Imran Khan and his party of turncoats" is the name of the disease spreading through the country. Maryam blamed him for weakening the economy and institutions as well as its ideological roots. She further said that a person like Imran Khan does not deserve the stature of the PM's Office.
She also appealed to the women present at the rally to come out on election day along with their families and relatives and vote for the PML-N.