Chaudhry Nisar takes oath as member of Punjab Assembly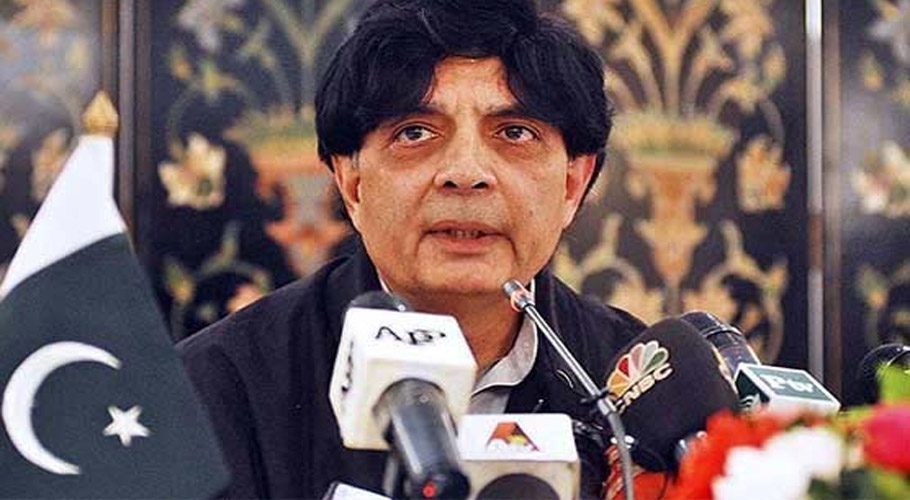 LAHORE: Former interior minister Chaudhry Nisar Ali Khan took oath as a member of the Punjab Assembly on Wednesday after the Assembly Secretariat found no stay order against his formally becoming an MPA.
The estranged PML-N leader was administered the oath of office by Punjab Assembly Deputy Speaker Sardar Dost Mohammad Mazari. Khan entered the Assembly through government chambers.
Speaking to media outside the Assembly, he said he would undertake a visit to Lahore again soon during which he would hold detailed talks with media persons. When he was asked which political party he would join, he replayed: "I am not going to any party yet."
Chaudhry Nisar said that his decision to take the oath was based on political development as the government was making efforts to bring a "self-styled ordinance despite rules relating to the election.
"They are in the effort to bring an ordinance in which a ground for disqualification is added," he said, adding that he had no reservation on disqualification in accordance with the law but did have reservations if it was through "an ordinance in the darkness of night." Khan responded a question said: "Imran Khan has many other friends, he doesn't need my company."
On Monday, Nisar reached the Punjab Assembly after three years to take the oath for the assembly's membership but could not do so due to the "absence of the speaker and deputy speaker."
The senior politician was barred by Assembly Secretary Muhammad Khan Bhatti on the plea that certain petitions were pending adjudication with the Lahore High Court to prevent him from taking the oath after a delay of around three years.
The assembly staff approached Chaudhry Nisar, who had expressed his intentions of moving a court of law, and told him that he could take the oath as no stay order had been issued against it by any court.
It should be noted that speaker Chaudhry Pervaiz Elahi is currently the acting governor in the absence of Chaudhry Muhammad Sarwar and is not attending the assembly session. Deputy Speaker Sardar Dost Mohammad Mazari is not attending either due to personal engagements.
Nisar met Punjab Assembly Secretary Muhammad Khan Bhatti and presented him with a copy of the rules. The secretary had issued a clarification that no one had stopped Nisar from taking an oath, adding that three applications in this regard have been filed to the Rawalpindi bench while two other applications have been filed at the Lahore High Court.
READ MORE: Will approach court for not being allowed to take oath: Chaudhry Nisar
Punjab Law Minister Raja Basharat said the government has nothing to do with the swearing-in of Chaudhry Nisar. He said Nisar had "destroyed the constituency in the last three years, adding that millions of rupees were lost because Nisar had not taken oath earlier."
Nisar contested the 2018 elections as an independent candidate from two national and two provincial assembly seats after developing differences with former prime minister Nawaz Sharif.
PML-N Vice President Maryam Nawaz has distanced herself from the estranged member, saying Nisar has nothing to do with the PML-N affairs. Maryam said that Nisar is no more in the party and there is no truth in reports of his meetings with party leaders.
Former prime minister Shahid Khaqan Abbasi also told the media that Nisar has left the PML-N and there was no question of taking him back. He said that no one expelled Nisar from the party and he himself left it. Abbasi said Nisar should contact Nawaz Sharif if it is his decision to come back.
Commenting on the reports of meetings between Nisar and Shehbaz Sharif, the PML-N stalwart said that Nisar has no contact with anyone. "We are all his friends for decades. If he could not keep in touch with us and Nawaz, then it would be difficult for him to return," he said.