5 dead, 20 injured in Gulshan-e-Iqbal explosion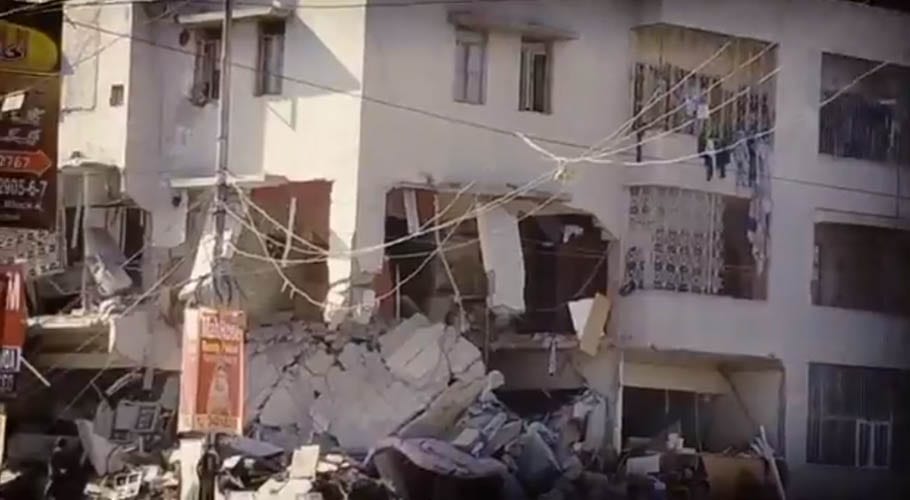 KARACHI: At least five people were killed and twenty people were injured in an explosion near Maskan Chowrangi in Gulshan-i-Iqbal area on Wednesday morning.
Law enforcement agencies and recuse officials have reached the site. The explosion occurred on the second floor of a multi-storey building. Rescue officials said a section of the residential building, which had a bank on the ground floor, collapsed in the incident.
At least twenty people have been injured in the incident and have been shifted to a nearby hospital. The nature of the blast has not yet been ascertained while rescue efforts are currently underway.
Eyewitnesses reported that windows of nearby buildings were shattered while some vehicles and motorcycles were also damaged. There are reported of people being trapped in the rubble of the collapsed portion of the building.
A team of Bomb Disposal Squad had reached the incident and have sealed the area to determine the nature of the explosion. The Sindh Building Control Authority (SBCA) has inspected the building and declared the remaining portion as precarious.
Inspector General Police Sindh has taken notice of the incident. He has sought a detailed report of the incident from SSP East. Chief Minister Murad Ali Shah has also summoned a report from Karachi Administrator Iftikhar Shallwani.
Sindh CM has instructed officials to provide treatment to the injured and expressed his sadness over the loss of lives. The CM has also directed provincial minister Saeed Ghani to visit the blast site.
PPP Minister Saeed Ghani, who visited the site of the blast, said that it seemed the explosion occurred in a residential building. He added that the cause of the blast would be determined later.
Responding to a question, Ghani said it could not be confirmed whether the explosion was a terrorist attack until further investigation was conducted. Saeed Ghani said the government would provide relief to the victims.
A day earlier, five people were injured when a bomb exploded at the entrance of a bus terminal near Shireen Jinnah Colony. Police investigators an improvised explosive device (IED) was planted at the gate of the terminal on a bicycle which blew up wounding five people.
* وزیراعلیٰ سندھ مراد علی شاہ کا مسکن چورنگی دھماکے کا نوٹس

* وزیراعلیٰ سندھ مراد علی شاہ نے کمشنر کراچی سے واقع کی تفصیلی رپورٹ طلب کرلی

* وزیراعلیٰ سندھ کی زخمیوں کے لئے فوری طبی امداد کا بندوبست کرنے کی ہدایت

* وزیراعلیٰ سندھ نے جانی نقصان پر گہرے دکھ کا اظہار کیا

— CMHouseSindh (@SindhCMHouse) October 21, 2020
Developing Story