Bilawal, Shahbaz Shairf discuss anti-government strategy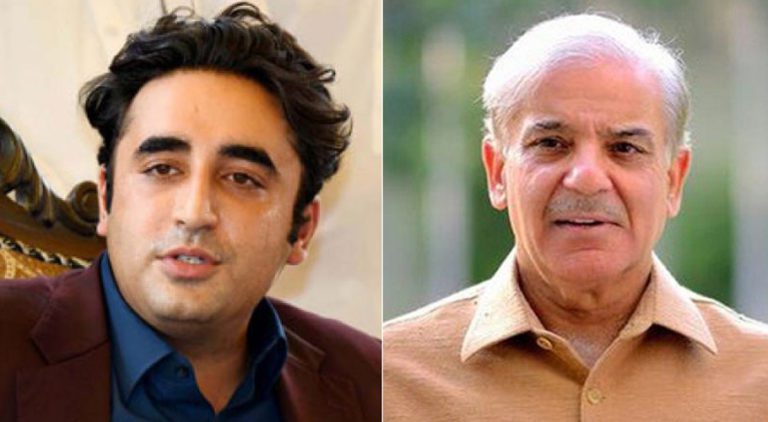 ISLAMABAD: Pakistan Peoples Party Chairman Bilawal Bhutto Zardari was called by Leader of the Opposition Shahbaz Sharif in which the parliamentary situation was discussed.
On Monday, Chairman Bilawal Bhutto Zardari and Shahbaz Sharif also discussed the joint sitting of
Parliament and the strategy of the opposition. Bilawal Bhutto Zardari talked to Shahbaz Sharif that all
the policies of the government can be thwarted through the parliament.
Bilawal Bhutto Zardari said that the parliament is the forum where the people's representatives fight theri case.
Later, Shahbaz Sharif telephoned PDM chief Maulana Fazlur Rehman. The opposition leader also telephoned Qaumi Watan Party chief Aftab Sherpao and Balochistan National Party chief Sardar Akhtar Jan Mengal.
Shahbaz Sharif also telephoned ANP central leaders Amir Haider Hoti, Shafiq Tareen and Balochistan Party's Dr Abdul Malik Baloch, Mohsin Dawar.
Read more: Bilawal, Fazl agree on joint opposition strategy for parliament session
Leader of the Opposition Shahbaz Sharif also had a telephone conversation with Amir of Jamaat-e-Islami Sirajul Haq. Shahbaz Sharif appreciated the united efforts of the opposition in Parliament and thanked them for their cooperation.
Shahbaz Sharif said that the opposition parties have shown unparalleled unity and solidarity in the national and public interest. He said that the coalition of oposition has forced the incumbent government to retreat.