Housing society in Karachi bans selling flats to non-Muslims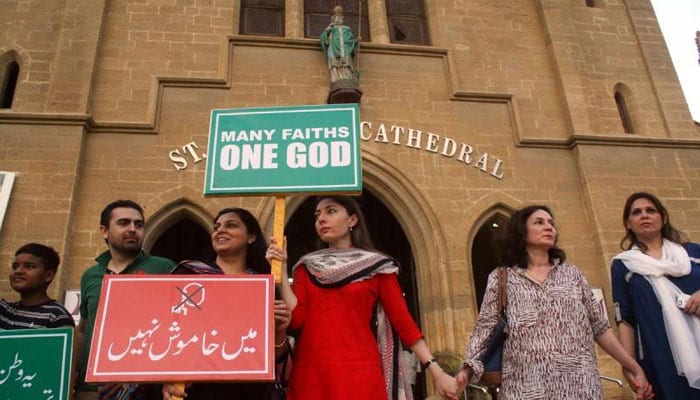 KARACHI: The cultural and religious diversity of Karachi came under threat when on Wednesday a housing society displayed a banner forbidding selling or renting apartments to non-Muslims.
Karachi has traditionally been known for being much accommodating to its many minority communities in contrast to other cities of Pakistan.
The city came under threat of religious extremism when a letter was displayed on a building in the Clifton area of Karachi forbidding its tenants to either sell or rent out their apartments to Non-Muslims. 
Picture of the notice was heavily shared on social media platforms, resulting in an angry reaction from civil society activists and rest of the denizens. Anthropologist and rights activist Sikandar Ali Hullio, who tweeted the development, termed it an example of the "sick mindset that never treats all citizens equal."
The lawmakers and legislators took notice of the preposterous notice by stating to take this matter to the court of Law. 
"We have lived here for centuries. How can one issue a notice depriving us of our basic rights?" he questioned as he called upon the Sindh government and concerned authorities to take notice of the incident and take action against the builder. "I will raise this issue in the session on Friday," said Nand Kumar Goklani, Member of Sindh Assembly. 
Sindh Minister for Minority Affairs, Hari Ram Kishori Lal has said that they had received several complaints about the incident and would take this up with the Sindh Building Control Authority before taking any action against the individuals "attempting to create disharmony in the name of religion."
Former Sindh advocate-general, Barrister Zamir Ghumro, meanwhile, termed it an 'illegal and unethical act'. "Article 23 of the Constitution clearly says that every citizen shall have the right to acquire, hold and dispose of the property in any part of Pakistan," he said. "It states that all citizens are equal before the law and are entitled to equal protection of the law."