Balochistan engineers protest to regularise OGDCL contracts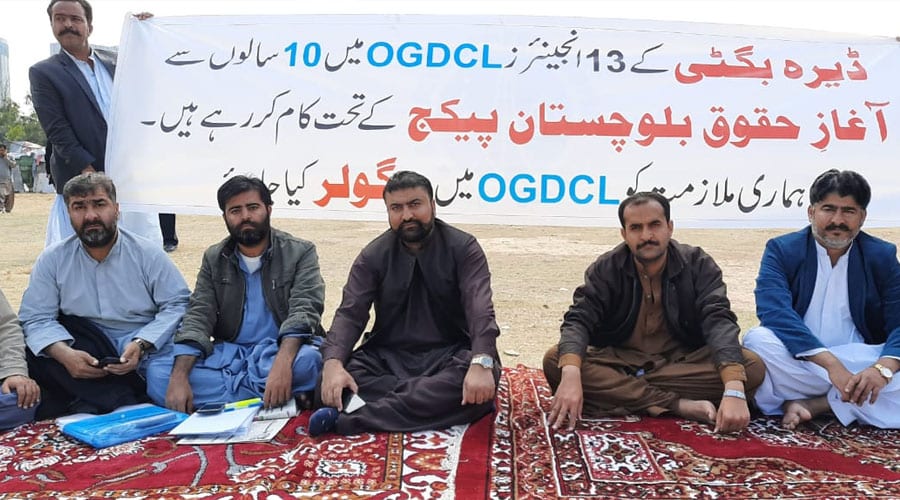 ISLAMABAD: A group of engineers belonging to Dera Bugti area of Balochistan are protesting in the federal capital demanding that they should be regularised.
The thirteen engineers have been working with the Oil and Gas Development Corporation (OGDCL) on a contract basis since a long time.
The engineers were employed over ten years ago under the 'Aaghaz-e-Huqooq Balochistan' oackage which called for providing jobs to disenfranchised Baloch youth.
The protesting engineers said that they have made several efforts to regularise their contracts to no avail, and now have been forced to protest against the injustice.
The engineers said that they approached the Balochistan High Court on 24 June 2016 which ruled in their favour on 26 August 2019 and ordered that all perks, privileges, bonus and other employment benefits from 2010 onward should be awarded to them.
They further stated that the management of the OGDCL was approached to implement the court's verdict to no avail. Furthermore, several stakeholders and  parliamentarians were approached to raise a voice on their behalf in parliament. They expressed gratitude for those who spoke for their rights.
The protesting enginners expressed regret that the OGDCL has not implemented the court's orders despite several letters and notices being send to the the organisation.
Balochistan Senator Sarfaraz Bugti also joined the protesting engineers to show support, and said that Petroleum Ministry has mislead the Senate. He said the Upper House was informed that the engineers would be regularised soon but instead the company filed a case in the Supreme Court.
Bugti said that he has come to express solidarity with the protesting engineers. He added that protest has remained peaceful or else they would be compelled to take drastic measures.