Anti-corruption tries to save main culprit of graft in KMC hospitals
KARACHI: Sindh Anti-Corruption conducted a raid to investigate financial irregularities in hospitals, and fraud in tenders under Karachi Municipal Corporation.
 Records were seized from Karachi Institute of Heart Diseases and after the investigation, Director Senior Medical officer will also be summoned. The tender for the financial year 2018-19 had been used in the hospitals under KMC in the financial year 2021-22 against the regulations. Notices are also likely to be issued to the companies participating in the tender.
The raid was carried out on Monday night at the Karachi Institute of Heart Diseases under the supervision of Inspector Kamran Memon of the Directorate of Anti-Corruption Establishment West Zone Karachi. During the raid, the anti-corruption team also sought records related to Karachi Municipal Corporation Director Senior Medical Health Officer Dr. Abdul Hameed Jamani.
According to anti-corruption officials, action has been taken in accordance with Sindh Anti-Corruption Rules 1993 in which the administration has been asked to record the budget for the financial years 2018-19 and 2021-22 while details of expenditure have also been sought.
According to anti-corruption officials, records of the procurement of drugs and medical devices in 2018–19 and 2021–22 have also been sought, and tender files for the businesses that received contracts during these years have also been collected. The supply of vehicles, ambulances and generators to the hospitals listed under category C has also been requested. A list of the petrol stations that fuel these vehicles and generators as well as the food budgets for these hospitals have also been requested. Additionally, information has been requested regarding the purchasing of operating room, medical, and emergency kit equipment. Information on the hospitals' bank accounts as well as information regarding the number of employees employed by these hospitals and their attendance records have been requested.
Anti-corruption officials say some records have been found in the operation, while the administration has promised to provide some records soon.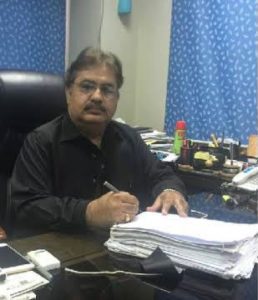 It should be noted that financial irregularity has reached an all-time high in the hospitals run by the Karachi Municipal Corporation and that efforts are being made to clear the tenders for the 2018–19 financial year in the 2021–22 financial year while senior medical and health officers and some private companies are busy attempting to obtain money from Sindh government funds by tampering with records.
In this regard, the sources say that efforts are being made to save Senior Director Medical Officer Abdul Hameed Jamani and matters have been settled between Abdul Hameed Jamani and the concerned Director of Anti-Corruption. However, Abdul Hameed Jamani has started accusing Khurshid Shah as usual.
It may be recalled that a medical company called KMC was implicated in fraud along with Abdul Hameed Jamani in the supply of medicines and medical equipment to KIHD and KMC hospitals.
It should also be noted that Abdul Hameed Jamani had previously been the subject of a NAB investigation where he was convicted of swindling the Workers Welfare Fund's finances. In this regard, a citizen is ready to sue anti-corruption officials, KMC Company, and Abdul Hameed Jamani, as well as request that the NAB and FIA carry out a high-level investigation.
 To know why is Abdul Hameed Jamani continuously using Senior PPP leader Syed Khurshid Shah's name, MM News tried to reach the later for his comments, but he could not be reached