Afghan peace talk: US Ambassador Khalilzad meets FM Qureshi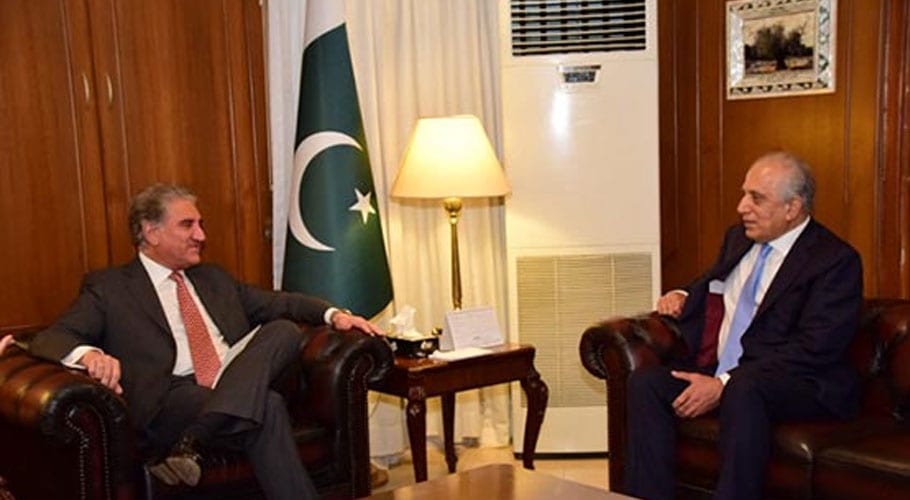 ISLAMABAD: US Special Representative for Afghanistan Reconciliation Zalmay Khalilzad has met Foreign Minister Shah Mahmood Qureshi in the federal capital.
Both the leaders held important discussions over the Afghan peace process and regional security during the meeting.
It is not the first time Zalmay Khalilzad had arrived in Pakisatn to hold talks on the Afghan peace process, earlier in October, Prime Minister Imran Khan held an important meeting with US Khalilzad to restore the stalled peace talks with the Taliban.
During the meeting, the prime minister repeated Pakistan's sincere support to the Afghan peace and reconciliation process. He also underlined the need to overcome the difficulties in this regard so that an enduring political solution to the Afghan conflict could be achieved at the earliest.
The US and the Afghan Taliban were close to striking a deal last month but President Donald Trump pulled out of the peace process, citing insurgent group's continued attacks against the American forces.
Read more: Pakistan to attend Moscow talks on Afghan peace process
The Taliban's refusal to agree on a ceasefire has developed as a major stumbling block in the way of breaking the impasse. Efforts; however, were being made to bring the two sides back to the negotiating table.
Pakistan has been at the forefront of seeking early resumption of the agreement process.