Zardari rules out  possibility of early elections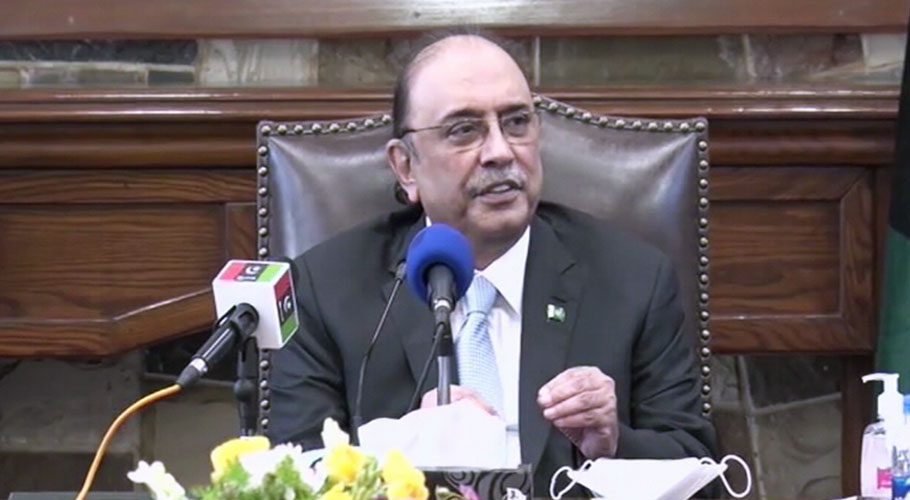 KARACHI: Ex-president and PPP Co-chairman Asif Ali Zardari on Wednesday ruled out the possibility of an early election in the country, saying that elections in the country would be held after the incumbent coalition government implements electoral reforms and amends the National Accountability Bureau (NAB) laws.
In a press conference flanked by senior party leadership, he called for "out of the box" solutions to fix Pakistan's economy as the country faces an uphill task on the fiscal front.
He said the incumbent government would move towards general elections after introducing electoral reforms.
"Electoral and NAB  reforms are included in our game plan," the ex-president said, noting that if elections are held before reforms, then any government that comes into powers will face the issues that the past and present regimes are facing, he added.  
"We have to change laws and improve them and then go to elections. Whether it takes 3 or 4 months, we have to work on implementation of policies and improving the electoral process," Zardari said.
He said he had consulted Mian Nawaz Sharif and "made him understand that as soon as our reforms and low-hanging fruit targets are complete [we can go to polls]".
The former president said the coalition government had "no issue" with voting rights and representation for overseas Pakistani, adding that a number of seats could be specified for them after discussions.
Elaborating on the issues facing the economy, the former president said oil was expensive which was why the country would hold a dialogue. Prime Minister Shehbaz Sharif had good relations with Saudi Arabia's ruling family, he noted.
Zardari said the country would keep facing difficulties until the International Monetary Fund (IMF) program was brought back on track.
He said he had a lot of "out-of-the-box thought processes", including about the State Life Insurance Corporation. "It is an investment of more than Rs100 billion. Give 26 percent of it to a business house with a good track record and float 26pc [of its shares] in the market. You will get at least Rs8 to 10bn."In addition, all electrical power lines should be privatized.
Zardari said he wanted businesses to consult with the PPP, which would provide out-of-the-box solutions.
He claimed that overseas Pakistanis had been "led astray" by the previous government and they had no idea about the prevailing heat and inflation in the country.
The army was "apolitical" for the first time, he said, asking whether the situation warranted saluting Chief of Army Staff Gen Qamar Javed Bajwa or "fighting" with him.
Talking about the no-confidence vote that led to the ouster of former prime minister Imran Khan, Zardari said it was "good to know that the army can remain neutral". He expressed the hope that the army would continue to be "apolitical" and any problems that arose could be solved by national representatives.